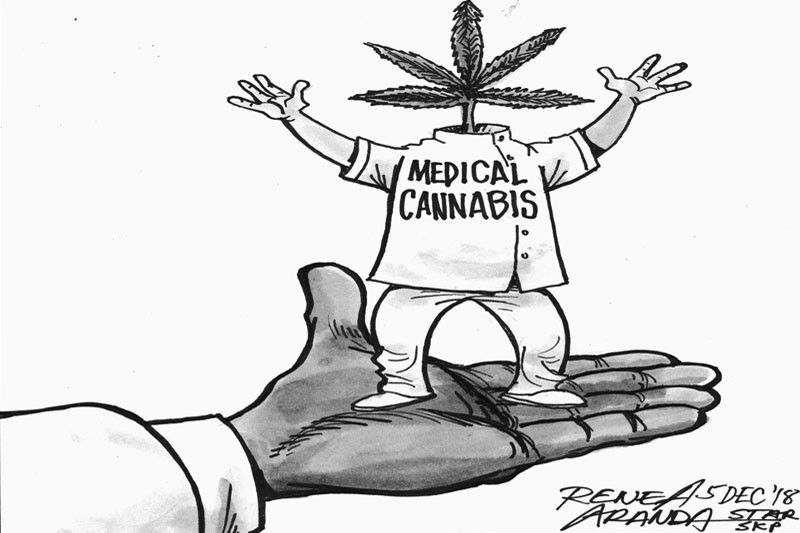 Pot joke
Malacañang officials stressed that it was just another joke by President Duterte, but lawmakers are taking the statement seriously enough to revive proposals to legalize medical marijuana.
The proposal follows moves in 46 states in the US to legalize the use of marijuana for medical purposes, with nine US states and the capital Washington DC allowing even recreational marijuana. This year Canada became the second country to legalize recreational marijuana use nationwide, after Uruguay in 2013.
Marijuana for private use is also allowed in some form, although still regulated by various laws in Argentina, Australia, Costa Rica, the Czech Republic, Ecuador, Estonia, Germany, Israel, Italy, Jamaica, Mexico, the Netherlands, Peru, Portugal, South Africa, Spain and Switzerland.
The Philippines currently has some of the world's toughest laws against possession of prohibited drugs, which include marijuana. But certain lawmakers are monitoring developments abroad, where people attest to the efficacy of cannabis in treating afflictions particularly chronic pain.
President Duterte has often mentioned suffering from chronic pain due to a motorcycle spill in his younger years. He once let slip that to deal with the constant pain, he took fentanyl, the powerful opioid whose abuse is now one of the principal targets of an intensified narcotics crackdown by the administration of US President Donald Trump.
President Duterte has since said his doctor had advised him to stop taking fentanyl because of the risks. But his statements about his afflictions are the reason why people take him seriously even when he jokes about using marijuana to stay awake during hectic international summits. Some of his congressional allies have also expressed support for the legalization of medical marijuana.
If the President wants to ease the laws on marijuana use, he should issue clear statements and open the issue to public debate. Apart from relieving chronic pain, legalization of medical marijuana might save many from losing their lives while ostensibly resisting arrest or nanlaban during police anti-narcotics operations.