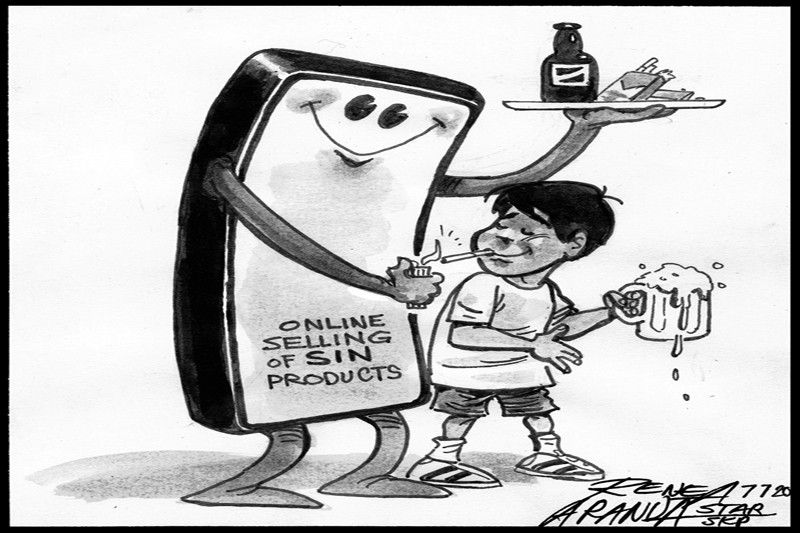 With people forced to stay home to contain the coronavirus disease 2019, cyberspace has become the new marketplace for a slew of products, services and ideas.
Cyberspace also makes it easier for people, whether deliberately or unwittingly, to be outside the radar of government regulators and the tax police. Some sellers deliberately evade regulation; others are unwittingly not covered, either because they are unaware of the rules, or because of the inability of the state to apply the regulations online.
Now the government is eyeing a ban on the online sale of cigarettes and alcohol. Apart from evading the payment of excise taxes, online sale of the so-called sin products can also circumvent the ban on their sale to minors, according to the Department of Finance.
From January to May, the DOF noted a hefty decline of 39 percent in sin tax collections, from P102.71 billion in the same period last year to just P63.1 billion. The DOF also noted that in at least one major online shopping platform, bundles of cigarette packs were being sold at discounts ranging from 40 to 50 percent.
Excise taxes on sin products are meant to finance the Universal Health Care program. In the first year after the passage in December 2012 of sin tax reforms, the World Health Organization says that over $1.2 billion in sin taxes allowed the government to provide health care to an additional 14 million families or roughly 45 million Filipinos.
The WHO estimates that on average, 240 Filipinos die of smoking-related diseases every day. At least 25 percent of Filipinos die of heart disease, stroke or other non-communicable diseases before the age of 70, according to the WHO. Health experts have warned against the use of electronic cigarettes, which are also being sold online. Despite the health risks, the WHO notes that smoking remains prevalent in the Philippines, helped along by the fact that the country has one of the most affordable tobacco prices in the region.
While debates continue on whether raising excise taxes reduces the consumption of tobacco and alcohol, there is no doubt that the taxes allow the expansion of public health coverage. This is important particularly amid the COVID-19 pandemic. If the government pushes through with its planned ban on the online sale of sin products, it must make sure that the ban will be fully enforced.