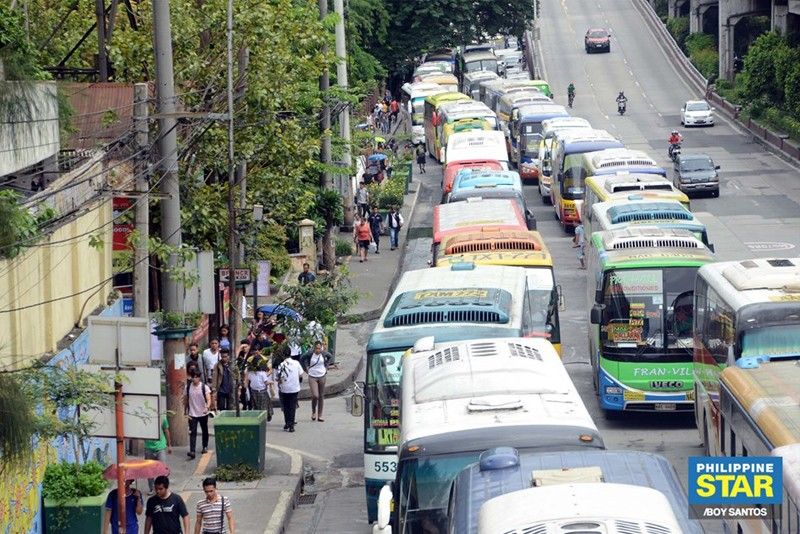 On many occasion, people don't want to acknowledge or see the elephant in the room because that would require admitting the problem exists, forcing them to deal with it and to come up with an equally difficult or controversial solution.
The MMDA can no longer ignore the elephants on EDSA and by this I mean the excessive number of city buses particularly the old, the non-air conditioned or dilapidated buses on EDSA. Many solutions of the MMDA and DOTr to ease traffic have largely been targeted at reducing the volume of private cars, phasing out five-year-old taxis, creating a motorcycle lane, and imposing a jeepney modernization program. All of these well-intentioned policies have contributed some good. The question is why did the government suspend the law or policy on the mandatory phase out of city buses that are 15 years or older? Even the law against overloading of trucks was also suspended, which explains why our roads are congested and constantly being re-blocked due to the excessive numbers of buses and overloaded trucks.
While some critics played "pity the poor" who have to risk life and limb to get into buses that were not moving, I actually stood by the service road at EDSA – Cubao from 10:30 to 11 a.m. Thursday, Aug. 8, taking photos and videos of the city buses that practically turned the service road into their own private terminal, only moving when there were no more passengers to scoop up. I observed that almost all the city buses that passed by were only 30 percent full. If the yellow lane turned into a parking lot last week it is simply because there are too many buses especially during off-peak or non-rush hours. The only solution is for the government to impose a phaseout program to reduce the volume of buses, or the MMDA should impose a city bus volume reduction scheme where "coded" buses are forced to "garage" or layover during off-peak or non-rush hours.
The volume reduction would surely open up more road space and increase the speed for passengers to get to their destination and should not seriously affect bus drivers or conductors because they will have passenger filled days to make up for when they are coded. There are existing studies that support this, and I believe that this is what the MMDA should work on because if it works without seriously affecting commuters, then they have the option to stretch the coding hours further or to adjust as they deem fit. Incidentally, I also got a glimpse of the many jeepneys plying the Aurora Blvd. route and saw that they too had very few passengers off-peak! They should also be included in the vehicle reduction plan instead of wasting time and fuel trying to get a few heads per trip.
I hope Secretary Tugade could get a think tank to study the matter. If I may suggest, start with setting up cameras to record the volume of passengers on every city bus that drives by, during peak and off peak hours and figure out what sort of buses get the passengers and who don't. That gives them actual data and footage. Like they say in sports: Let's go to the tape!
* * *
Last weekend the Lord led us to Baguio City where we thought we would be going for a quick vacation. But instead we ended up doing informal "campus ministry" looking after a "freshie" or freshman at UP Baguio who was on her first week of college life living at the freshman dorm in UP. As a parent who is numbering the days when we are to send off our only child to study abroad, I am very sensitive to the challenges of what "freshies" or students have to go through in general and I was really saddened by what we discovered.
Our "freshie" in UP Baguio was one of 108 students enrolled. Being a state university, UP Baguio is faced with such budgetary constraints that "freshman dormers" are not allowed to bring in electric kettles, printers, or anything that consumes electricity. There is no microwave, no wi-fi, the library closes at 5 p.m. on weekdays and remains close during the weekends. Six to eight persons share a room and a common bathroom. It is literally a case of "you get what you paid for" since the dorm fee is ridiculously low at P700. Most room or bed space already go for P1,500 to P3,000. Outside of UP, the dorm rates go as high as P8,000. Like many cities, Baguio does not have a dedicated agency that registers, regulates and determines prices and sets minimum requirements for facilities and many of those who offer bed space or operate a boarding house do so "underground."
So "Sucks to be you" if you need to research, print reports, or stay up late for exams. If the temperature dips like it did last weekend, go use the portable water heater for your bath water, coffee or instant mami! Yes, it will toughen up the kids and teach them time and resource management. But my understanding is, we are molding and building scholars and not running an army boot camp. Perhaps if we helped the kids run an "in-dorm" internet cafe, we might develop business people, not activists whose anger started from being deprived the basic needs of students. I'm hoping to get some time with UP president Danny Concepcion to find solutions because we can't get the best out of every Iskolar Ng Bayan if half their time and "baon" is spent looking for solutions off campus. I'm also praying to reach out to our boss Manny Pangilinan to help bring in PLDT-Smart Fiber optics to the very few dorms inside UP Baguio because the pocket wi-fi's are not effective due to the environment or terrain. Please pray or pay it forward for the youth.
* * *
E-mail: [email protected]