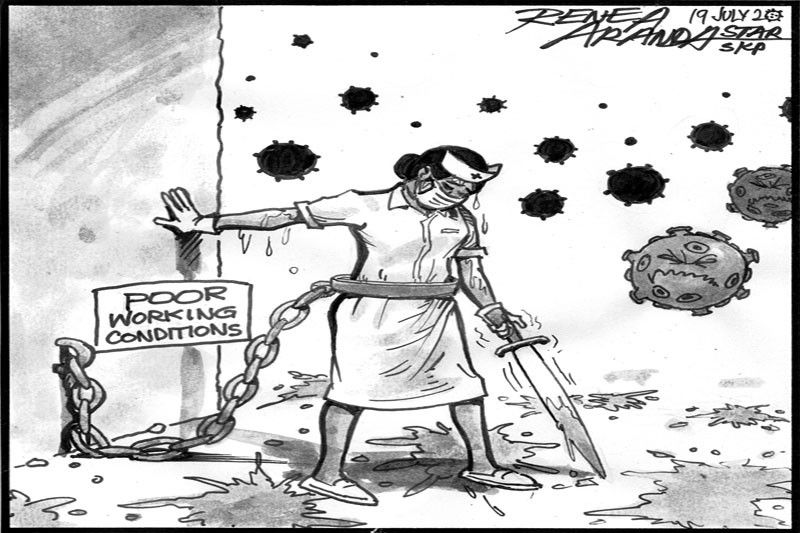 Hailed as heroes of the pandemic, the frontliners in the nursing profession are feeling anything but heroic these days, if their plight is to be the gauge. Long overworked and underpaid, they lament that their plight is now aggravated by the high risk of being infected with the SARS-coronavirus-2 that causes COVID-19.
Over the weekend, the Filipino Nurses United issued a statement bewailing the lack of protection for its members in the frontlines of the dangerous battle against coronavirus disease 2019. Nurses as well as doctors and other health professionals have accounted for a significant number of those who have succumbed to COVID-19. As in other countries, Filipinos have acknowledged the role of the health professionals in this challenging battle and hailed them as heroes.
And yet the nurses lament that they are not getting enough of even the basic protection against SARS-CoV-2, starting with personal protective equipment and N95 surgical masks. There must be a change of PPE for every COVID patient that a nurse attends to, but the group says this isn't happening in many hospitals. They worry that cheaper N95 masks that the government reportedly plans to procure might prove to be substandard and put the users at risk.
The group says the country has about 200,000 nurses who are currently unemployed. But the risk of COVID infection as well as low pay for long working hours are reportedly keeping them away from augmenting the overwhelmed active nursing force.
This situation could be eased with improved working conditions especially in COVID facilities, and of course with better compensation. The nurses' organization, however, is decrying the continuing delay in the implementation of the salary increase for government nurses, which is mandated by law.
The nurses have been waiting for the pay increase for years, but it became bogged down in litigation. Even after the Supreme Court ruled in their favor several months ago, the nurses' long wait continues amid the pandemic. Unless the government can provide the frontliners with proper compensation and full protection against infection, all those paeans about their heroism will be nothing but rhetoric.