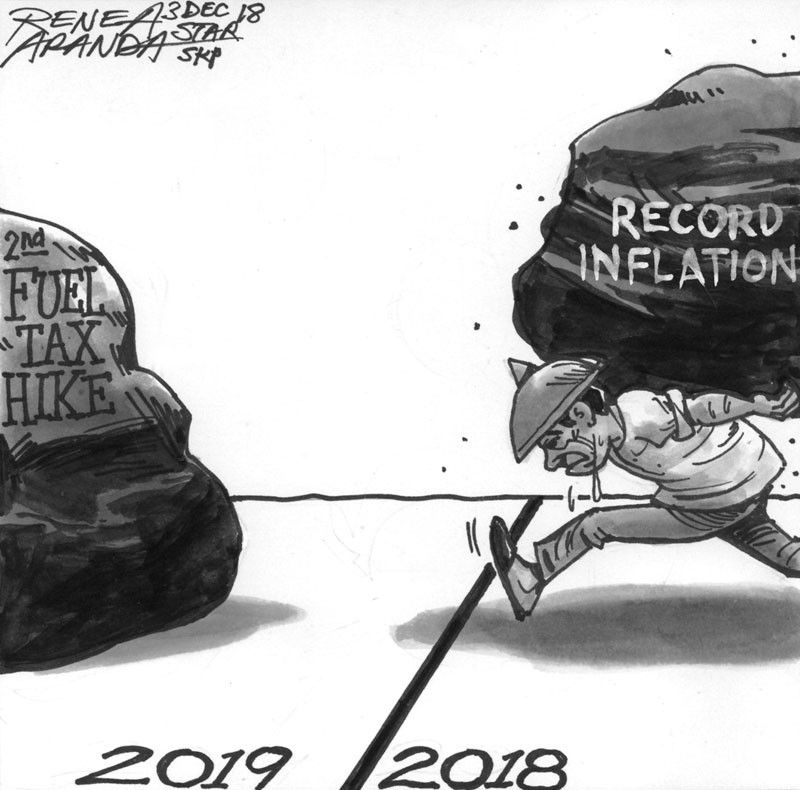 No respite from inflation
Consumer prices began inching up in January this year and galloped in the next months, hitting a nine-year high of 6.7 percent at the start of the fourth quarter. Vendors of various items including food products explained that they had to increase their prices because the cost of transporting the goods had gone up.
Importers and distributors of several other goods gave the same reason: higher fuel prices meant increased logistics costs that they passed on to consumers. The higher transport costs were not due to any price spike or shortage of subsidized rice sold by the National Food Authority. Anyone who does the regular marketing for the household will tell you that inflation cascaded all the way down to the price of bird's eye chili or siling labuyo after the government slapped an unprecedented hefty excise tax on fuel.
Food and non-alcoholic beverages have been the top contributors to overall inflation, according to the Philippine Statistics Authority. This only means that food including rice and sweetened beverages accounted for the largest chunk of those inflation figures. It doesn't explain why food prices went up in the first place, or why transport costs have spiked, affecting the prices of almost all commodities. The disappearance of NFA rice as well as the higher prices of commercial rice, allegedly due to mismanagement or cartel operations, do not lead to higher fuel prices and their inflationary impact.
In France, the worst riots in years are being staged by people protesting against rising fuel taxes. In our country, the government is standing firm on the fuel excise taxes imposed since January this year, which have caused pump prices to double since December 2017. Even with world crude oil prices falling, local pump prices remain high. Yet the government is considering pushing ahead with an increase in the fuel excise tax by January 2019, as provided for in the Tax Reform for Acceleration and Inclusion or TRAIN law.
The law can be amended to remove that fuel tax, but lawmakers responsible for TRAIN are going along with the administration's line that food prices are to blame for inflation. Burdened consumers are threatening to take their revenge through the vote in May.