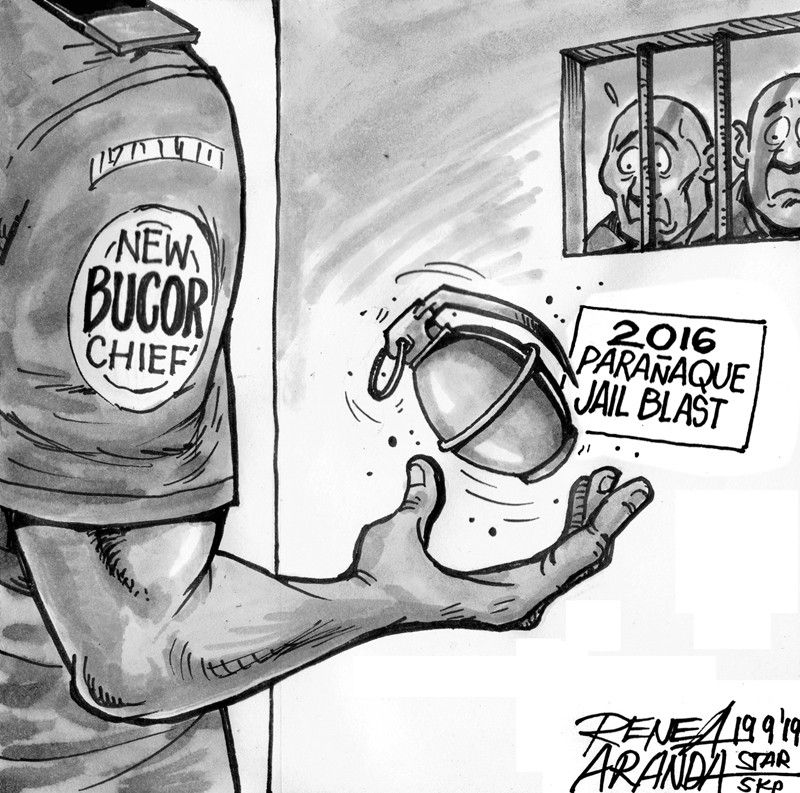 Thirty of its officials are under 60-day preventive suspension, on orders of the Office of the Ombudsman. Their chief has been fired; whether he will face administrative or criminal charges is still being determined.
So who's minding the store in the Bureau of Corrections? With the scandal over the mass release of prisoners following the retroactive application of the good conduct time allowance or GCTA law, there are reports that no BuCor official wants to sign official documents related to any of the national prisons under the bureau.
So President Duterte has appointed a replacement for sacked BuCor director general Nicanor Faeldon Jr. The designation of Gerald Quitaleg Bantag, however, is already fraught with controversy. First, he is just being "seconded" – meaning he will be on leave from his regular position as regional director of the Bureau of Jail Management and Penology, which has jurisdiction over inmates who have not yet been convicted and those who have been convicted of minor offenses.
Second, Bantag was charged with estafa and illegal discharge of firearms for failure to pay P2,063 in food bills in a restaurant in Malabon in 2014. And third, in 2016, when he was warden in the city jail of Parañaque, a grenade exploded during an inmate riot, killing 10 of them including two Chinese nationals. Bantag faced 10 counts of murder, which was later downgraded to homicide.
Proponents of capital punishment probably wouldn't mind if certain inmates in the New Bilibid Prison would die in a grenade blast. The latest controversy at the NBP and its supervising agency, the BuCor, however, revolves around suspected corruption in the grant of GCTA and the wholesale release of prisoners since June, when the Supreme Court ruled that the benefits arising from the law must be applied retroactively.
Included in the mass release were several Chinese nationals convicted of drug trafficking as well as the rapist-killers of the Chiong sisters in Cebu. The former mayor of Calauan, Laguna, Antonio Sanchez, was nearly released despite facing drug charges while serving seven life terms for rape with homicide and a separate double life term for the killing of two supporters of his political rival.
Corruption has long plagued the country's jail and corrections agencies. Obliterating inmates en masse will not cure this. With Bantag's designation, will it be a case of same dog, different collar? Malacañang has expressed confidence in Bantag's qualifications for the job. Bantag will have to convince the public that the confidence is not misplaced.