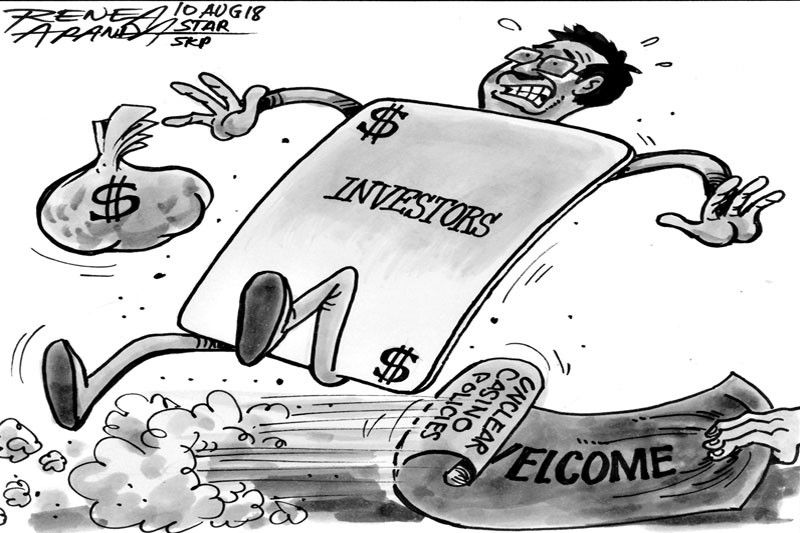 Need for clarity
He's against casinos and gambling, President Duterte has often said. Perhaps someone should put down his sentiments in black and white, to serve as an official policy guideline throughout the executive branch. And Malacañang must see to it that the message is cascaded to every public official who might be involved in negotiating gaming contracts.
This would prevent a repeat of the deals that the government has suspended involving the establishment of casinos. After the project that is now on hold in Boracay, another casino deal is under review after President Duterte described it as "flawed."
The President earlier this week sacked the entire board of the Nayong Pilipino Foundation for awarding a 70-year lease to Landing Resorts Philippines Development Corp., a subsidiary of Hong Kong's Landing International Development Ltd., for a $1.5-billion entertainment complex with a casino to be built in Parañaque.
Duterte had also ordered a stop to the $500-million casino and integrated resort project in Boracay of Macau casino giant Galaxy Entertainment and its Filipino partner. Galaxy, however, says the project is still on and is waiting for the reopening of Boracay, tentatively set in October.
Both casino projects were approved by the Philippine Amusement and Gaming Corp. President Duterte, however, has said there will be no casino project in Boracay. The Department of Justice, for its part, has ordered the Office of the Government Corporate Counsel to review the lease contract with Landing International. Because of the President's statements, Malacañang said the review would likely lead to the termination of the contract.
The government could find itself embroiled in expensive litigation over the contracts. While the President is against casinos, the country's laws allow their operation. Clear guidelines on his administration's gaming policy can prevent a repeat of the current controversies.