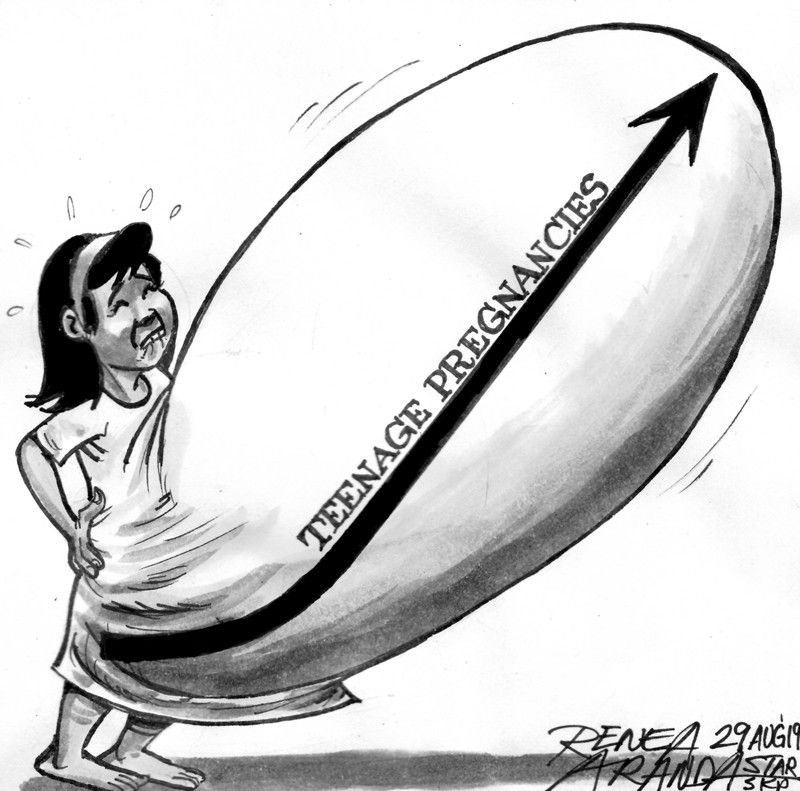 When an impoverished 15-year-old girl gets pregnant, she usually drops out of school, and the disruption in her education can be long-term. The next two or three years are devoted to caring for the baby – unless a second one comes along, and a third…
Such cases, including the repeat pregnancies during the teenage years, are becoming increasingly common nationwide, with even girls as young as 10 getting pregnant, according to population experts. The number of teenage pregnancies has reached such worrisome proportions that President Duterte recently called a multi-agency summit on the problem and declared it a "national social emergency."
Data gathered by the Commission on Population showed that an average of 196,409 Filipinos aged 15 to 19 years get pregnant each year. That's about 24 babies born every hour to teenage mothers, or 500 a day, according to Popcom. In 2017, about 2,000 of the pregnancies involved girls aged 10 to 14 years.
The social and public health issue has worried even economic planners. The National Economic and Development Authority estimates that lifetime earnings lost by women due to early childbearing can range from P24 billion to a staggering P42 billion.
The number of teenage pregnancies dipped by one percent from 2013 to 2017, according to Popcom. It's not clear if this had anything to do with a more aggressive push by the Duterte administration for the responsible parenthood and reproductive health law, despite a restraining order issued by the Supreme Court on contraceptives.
The RH efforts, however, are clearly not enough. With the declaration of a national social emergency, the effort will involve not just Popcom and the Department of Health but also the Department of Education and local government units down to the barangays.
Popcom records show that the highest cases of unwanted teenage pregnancies occur among poor households. Often, both mother and child suffer from the consequences, with fewer economic opportunities and weaker health. The implementation of the seven-year-old RH law has been delayed enough. This national emergency deserves the urgent response that is accorded other emergency cases.