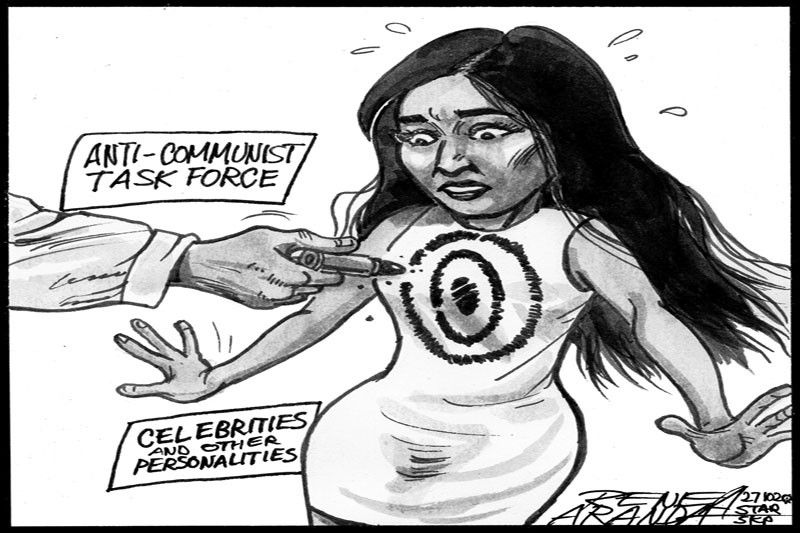 In the battle for hearts and minds, the National Task Force to End Local Communist Armed Conflict lost this one. The inter-agency task force continues to receive flak for advising celebrities about the perils of fraternizing with the Gabriela party-list. The group has been tagged by the NTF-ELCAC as a front of the Communist Party of the Philippines–New People's Army.
The advice was given by one of the two NTF-ELCAC spokespersons, Lt. Gen. Antonio Parlade, chief of the military's Southern Luzon Command. He gave the advice to movie star Liza Soberano, best known for her role in the latest remake of "Darna," and former Miss Universe Catriona Gray, with a reference to actress Angel Locsin and her activist sister Ella Colmenares, whom Parlade implied had joined the New People's Army in Quezon.
His advice might have been shrugged off, but it included a warning that Soberano could suffer the same fate as Josephine Anne Lapira, a 22-year-old biochemistry student of the University of the Philippines-Manila, who was killed in an encounter in November 2017 between government forces and the NPA in Batangas.
Soberano had spoken at a webinar sponsored by Gabriela Youth, to mark the International Day of the Girl Child on Oct. 11. She was introduced as a young woman influencer. She and her defenders have invoked her right to free expression, especially since the topic of her talk at the webinar was women and children's welfare.
The NTF-ELCAC, created in December 2018 as President Duterte gave up on formal peace negotiations with the CPP and National Democratic Front, has a multi-pronged approach to achieve its goal. A number of the approaches, including the provision of "responsive" basic services to make communities "conflict-resilient" as well as the improvement of infrastructure, livelihood and poverty alleviation are intrinsic elements in addressing the root causes of insurgency.
Other aspects, however, need finessing, particularly in the area of countering rebel messaging. The NTF-ELCAC has received the heaviest flak in its strategic communication aspect, wherein it has been accused of "red-tagging" or linking certain groups to the CPP-NPA.
The latest imbroglio of the task force is the takedown of its anti-CPP-NPA streamers from strategic spots in the city of Manila and the province of Cavite on orders of Mayor Isko Moreno and Cavite Gov. Jonvic Remulla.
Both Malacañang and Defense Secretary Delfin Lorenzana, meanwhile, have advised Parlade to keep his mouth shut unless he has evidence to link individuals or groups to the rebel movement. In this controversy, if the NTF-ELCAC fails to see who's losing in the battle for hearts and minds, the task force is in trouble.