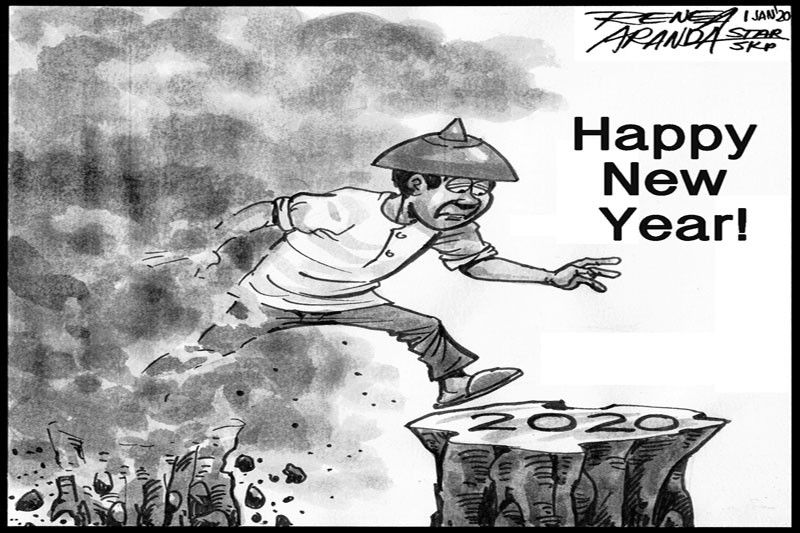 Tracking the results of a Pulse Asia poll, which showed 93 percent of Filipinos welcoming 2020 with hope rather than fear, a Social Weather Stations survey showed an even higher 96 percent of Filipinos greeting the New Year with hope.
On the first day of the year, it is good to look back on the positive developments in the past year. The Philippine team's top performance in the 30th Southeast Asian Games made up for the snafus and still unresolved controversies that hounded the country's hosting of the biennial event.
Also providing a positive note to the end of the year was the resolution of the Maguindanao massacre case after a decade, with key members of the Ampatuan clan convicted and sentenced to life in prison without parole.
For 19 days in November, Vice President Leni Robredo was at the helm of the war on drugs, during which she showed that battling the menace need not be so brutal and bloody, and drug personalities deserved a second chance.
The midterm elections in May were generally peaceful and orderly. Whether the results were good or bad obviously depends on one's political preferences. The Senate race was a big win for President Duterte and his administration slate but a debacle for the opposition Otso Diretso.
Rehabilitated Boracay won accolades and drew tourists as foreign arrivals hit eight million by yearend, although it's hard to determine how many of those arrivals were Chinese who went to the Philippines to work for offshore gaming operators.
Build, Build, Build was derailed by the nearly five-month delay in the enactment of the 2019 national budget. The ambitious infrastructure project, however, began regaining its pace in the second half of the year. The delayed budget also put a drag on economic growth, but targets are expected to be achieved by next year.
Inflation eased during the year, thanks in part to falling rice prices, although it meant suffering for the country's 2.7 million rice farmers and their families. Saving the local rice industry must be given priority this year.
Around Christmas, inflation was felt in the most basic items. Onions can make you cry, and their holiday prices made people sob. The Department of Agriculture says it is readying the approval of onion importation to pull down prices.
The changing of the year is always a time to rectify errors and learn from mistakes of the past year, dwell on the positive and build from the gains.
A happy New Year to one and all!