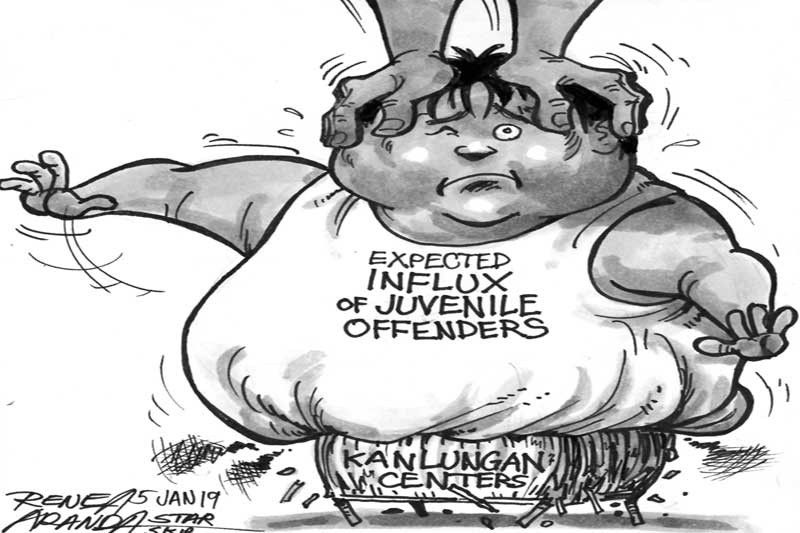 Humane conditions
With only two session days left before lawmakers go on recess for the electoral campaign, the proposal to lower the age of criminal responsibility from the current 15 years old may have to wait until after the elections, or even when the next Congress is in place.
With his sustained high approval ratings, however, President Duterte can expect to get the same support from the next Congress in lowering the age of criminal responsibility. So the executive can start planning for the requirements of making this measure work.
Among the most critical is the provision of infrastructure and other resources for keeping and rehabilitating juvenile offenders. The continuing war on prohibited drugs and other crime problems has filled local jails from floor to ceiling with inmates. The poor ventilation and congestion not only cause diseases to spread quickly but have also triggered fatal strokes as well as asthmatic and heart attacks among inmates.
Facilities for juvenile offenders are even more inadequate. The proposals to lower the age of criminal responsibility do not include imprisonment for juvenile offenders. But the minors will have to be confined in juvenile facilities where they will undergo rehabilitation.
The government cannot afford to have images of juvenile offenders packed like sardines in holding facilities, like adult inmates. Such images can quickly reverse support for a lower age for criminal liability, and the law could be amended again to return to the current age threshold.
So if the administration wants to lower the age threshold and sustain support for it, plans must be drawn up to provide funding and other requirements for keeping and rehabilitating juvenile offenders. Humane facilities will also encourage genuine rehabilitation of minors, giving them a second chance to become productive members of society, and saving them from a life of crime.