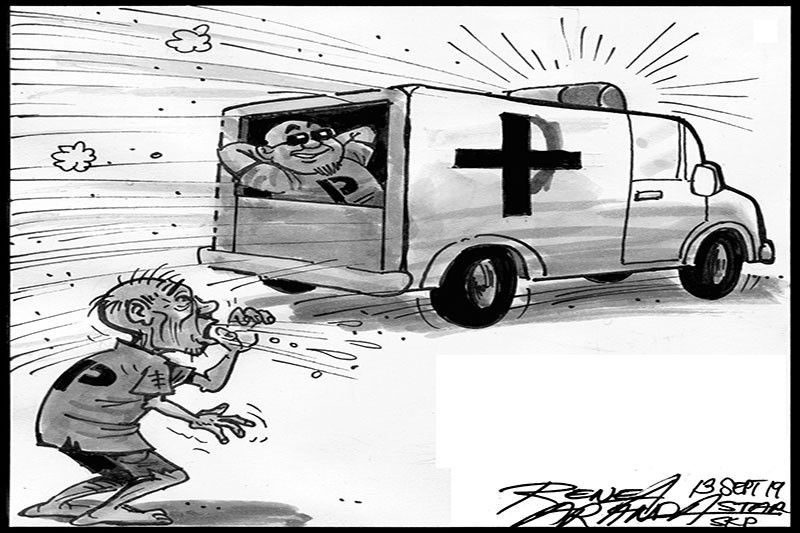 All year round, it seems, it's a season for gift-giving in the Bureau of Corrections. The "gifts" come wrapped or in envelopes, or are left unwrapped on desks or tables for the intended recipient to pick up.
Gift-giving was the explanation of Dr. Ursicio Cenas of the New Bilibid Prison Hospital, which serves inmates at the national penitentiary in Muntinlupa. Cenas was confronted yesterday with the accusation that he received money from former mayor Jose Galario Jr. of Valencia City in Bukidnon, who is in prison for graft, in exchange for emergency hospital referrals to the Philippine Heart Center and the National Kidney and Transplant Institute.
Facing the Senate yesterday, where lawmakers are investigating reports of multimillion-peso payoffs at the Bureau of Corrections in exchange for such hospital passes, Cenas ended up being detained for contempt together with two other BuCor officials linked to the questionable early release of heinous crime convicts based on the good conduct time allowance or GCTA law.
Galario's story is hardly new. Over the years there have been numerous stories of VIP inmates spending much of their prison term in private hospitals outside Bilibid. One was found to have enjoyed the company of sex workers while supposedly confined for illness. Cenas himself said some prisoners spent months in private hospitals.
Among the most notorious is convicted drug trafficking queen Yu Yuk Lai, who reportedly spent eight months at the Metropolitan Hospital in Manila's Chinatown district from December 2014. Road rage killer Rolito Go also reportedly enjoyed long stretches of confinement in the same hospital. A justice of the Court of Appeals and a regional trial court judge were dismissed by the Supreme Court for approving special privileges for Yu Yuk Lai, who is serving a life term at the Correctional Institution for Women in Mandaluyong for selling three kilos of shabu to a police undercover agent in November 1998.
It must be stressed that convicts aren't the only ones who use hospital confinement to escape the punishment of incarceration. VIP politicians accused of plunder and are therefore denied bail also work for prolonged "hospital arrest," developing all sorts of ailments that miraculously disappear overnight if ever they are cleared.
All people get sick, and incarceration can truly trigger life-threatening afflictions. The NBP, however, has its own hospital, and there are several government health centers that can attend to genuinely sick prisoners, without allowing them to abuse the privilege. The government must move decisively to prevent private hospitals from becoming the refuge of scoundrels.