Opinion
Good law, bad implementation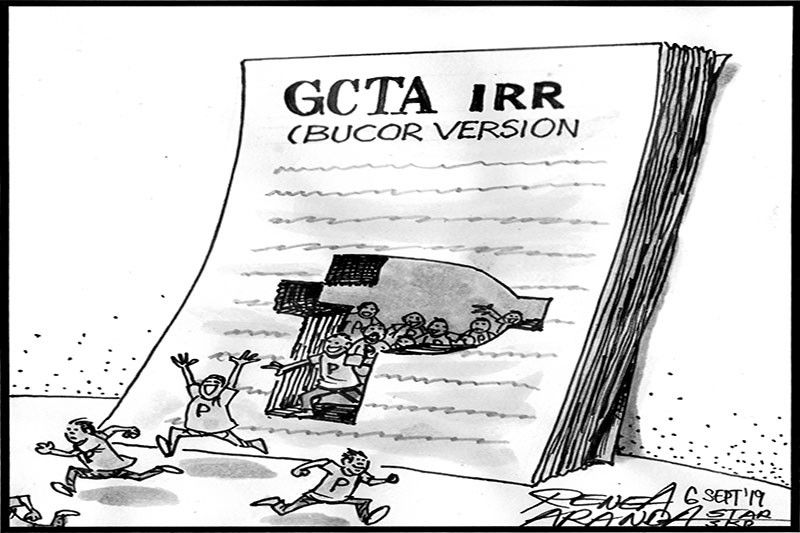 Maybe it's the presidential warning that they would be hunted down "dead or alive" if they didn't surrender. Yesterday, some of the convicts freed based on the law on Good Conduct Time Allowance or GCTA began trickling back to the custody of authorities.
Their eligibility for early release under the GCTA Law, Republic Act 10592, will have to be reviewed because of confusion over the law, its implementing rules, and a manual on time allowances and service of sentence. The manual was drawn up by a joint committee of the Department of Justice, which has jurisdiction over convicted prisoners, and Department of the Interior and Local Government, which oversees local jails for inmates still undergoing trial.
RA 10592 was enacted in 2013; the implementing rules and regulations were approved in March 2014, and the manual was later released. Congressional hearings, however, have revealed that while RA 10592 excluded from the GCTA privilege those under preventive imprisonment – meaning inmates who have not yet been convicted – for heinous offenses, this exemption was missing from the IRR, while the manual did away with any exemption.
Whether the exemption in RA 10592 also covers convicted felons is a matter that might have to go to the Supreme Court. While the law and the rules provided for the prospective application of the law, inmates at the national penitentiary challenged this before the SC, which ruled unanimously in June that laws benefiting prisoners must be applied retroactively.
The SC ruling led to what one congressman described as the largest "mass jailbreak" in the history of the country. With what looked like undue haste, several Chinese drug traffickers, three rapist-murderers of the Chiong sisters and five hazing killers of University of the Philippines Sigma Rho neophyte Dennis Venturina are now free.
Former Calauan mayor Antonio Sanchez, convicted of raping Mary Eileen Sarmenta and murdering her together with her fellow UP-Los Baños student Allan Gomez, would have also been freed, but the public uproar aborted it.
While the ombudsman pursues the possibility that money fueled the "mass jailbreak," Congress and the executive must work on the law and implementing rules. The GCTA law is meant to reward prisoners who truly deserve credit for good behavior. As in many other laws in this country, however, the implementation leaves much to be desired and, in this case, may have been abused for corruption. RA 10592 may be a law with good intentions, but we know the saying about what paves the road to hell.