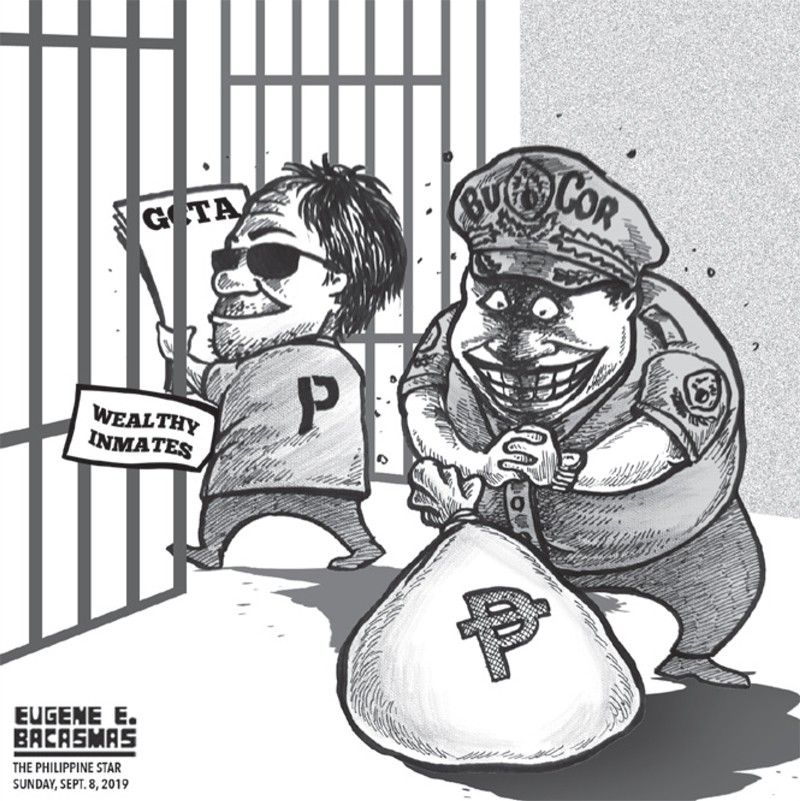 In government service, it seems, wherever human discretion is involved, crooks see an opportunity for personal profit. This is seen in the Bureau of Customs, where individuals continue to exercise wide discretion in assessing the amount of tariffs and duties to be imposed.
A picture of corruption is also emerging in the Bureau of Corrections. BuCor is now at the center of a scandal that erupted following the aborted release of rape-murder convict Antonio Sanchez and the actual release of the rapist-killers of the Chiong sisters as well as the killers of fraternity member Dennis Venturina.
During a late-night Senate hearing last Thursday, the wife of an inmate in the New Bilibid Prisons narrated how she paid a total of P50,000 in installments for the early release of her husband on the basis of the law on good conduct time allowance or GCTA.
Senators conducting the probe said they would pursue reports this coming week that a group in the BuCor could be involved in a systematic collection of payoffs for the early release of prisoners ostensibly for good conduct. The amounts involved, the senators said, went as high as P1.5 million per prisoner.
This theory of GCTA for sale tends to be bolstered by the fact that among the first convicts to be released in a flood since June, after the Supreme Court unanimously ruled that the GCTA law must be applied retroactively, were several high-profile prisoners belonging to wealthy families as well as drug traffickers. The Senate is still trying to determine if Sanchez's aborted release also involved a payoff.
The GCTA law implementation is on hold as authorities try to reconcile the pertinent laws with the implementing rules as well as a manual for computing the time allowance. The manual was jointly drawn up by the Department of Justice and Department of the Interior and Local Government.
Apart from clarifying the coverage of the GCTA, authorities must also bring transparency to the process of crediting good conduct. At every step of the process of awarding GCTA, responsibility for giving credit must be clear and covered by signed documents. The prisoner must be supplied with an official record of his time served, and he must formally apply for coverage of the GCTA.
For a long time, prisoners have had the option of having their sentence reduced based on good conduct. There are inmates who deserve this privilege, who deserve a second chance. The process must not be undermined by the venality of crooks in the Bureau of Corrections.