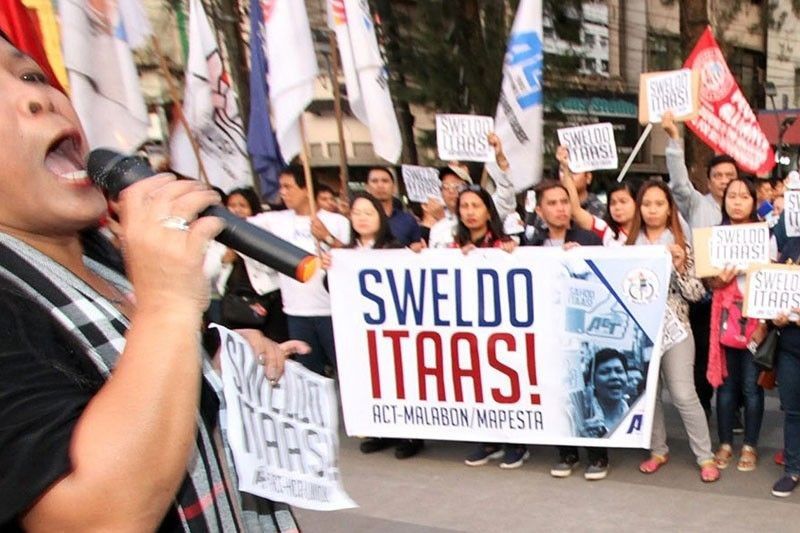 On the eve of Labor Day last week, a petition seeking to raise by an additional P710 on top of the present P537 a day minimum wage in Metro Manila was filed before the Regional Tripartite Wages and Productivity Board (RTWPB). The petition, filed by the Trade Union Congress of the Philippines (TUCP), wishes to make the daily minimum wage effectively increased to a total of P1,247 for all workers in the national capital region (NCR), including Metro Manila.
Alan Tanjusay, the official spokesperson of the Association of Labor Unions (ALU)-TUCP, admitted their proposed amount of wage hike was literally asking for the moon. Translated in our own language, "suntok sa buwan." But Tanjusay though swore the proposed total amount of daily minimum wage did not come out of thin air.
Speaking for the Chinoy business community, Henry Lim Bonliong, newly elected president of the Federation of Filipino-Chinese Chambers of Commerce and Industries Inc. (FFCCCII) explained the need to allow the natural law of supply and demand to determine wages and salaries. Like any other services and commodities, Lim pointed out, workers would try to find jobs from employers like them at the FFCCCII where they could get better or higher pay and benefits.
That is, if the workers have the skills and qualifications. Thus, Lim underscored the need for skills training that the government should provide through institutions like the Technical Education Skills Development Authority (TESDA) and the private sector support like "Go Negosyo" that assists small, micro-medium enterprises (SMEs). Lim is one of the mentors of "Go Negosyo" helping rice farmers and traders.
Tanjusay and Lim joined us during our own Labor Day celebration at the Kapihan sa Manila Bay breakfast news forum last Wednesday at Café Adriatico in Remedios Circle in Malate. In the end, both of them agreed the greater need is to create more jobs than wage hike, which may only drive away investors and business if cost of labor would become too prohibitive.
He echoed the laments of minimum wage workers who have to make do with sardines, ready-to-cook noodles, lower quality rice that they can afford to buy from their prevailing wages.
The last wage increase that took effect in November last year raised the daily minimum wage to P537 at the NCR. Based on government figures, the TUCP calculated the real value of P537 daily minimum wage at the NCR is only P457, with government-mandated deductions from minimum wage computed at P47.05 daily. Thus, the TUCP rued, nominal take-home pay of a minimum wage earner comes at P416.53/day but it's real value amounts only to P354.60.
In fact, Tanjusay claimed, the ALU-TUCP did their own checking of market prices for basic goods and services as against the recently released government data on inflation and the food budget to meet nutritional requirements for the national average of Filipino family with five members. From their own calculations, he disclosed, to meet the "nutritional requirements" for a family of five would cost them at least P1,200 for three meals a day.
Specifically, the government data came from the March 2019 Philippine Statistics Authority (PSA) Media Service Market Price of Selected Commodities and the "Pinggang Pinoy" model produced by the Department of Science and Technology-Food and Nutrition Research Institute (DOST-FNRI). Based on these combined data, Tanjusay sighed, the Filipino minimum wage workers are "malnourished" given the "nutritional deficiency" caused by their weak purchasing power.
A family of five is estimated to require a daily right food budget of P917.50, the TUCP claimed. TUCP finds "unrealistic" the PSA's 2018 Household Final Consumption Expenditure (HFCE) Survey, specifically on the "Food and alcoholic beverage" estimates, which indicate that a family of five spends P208.83, or P14 per meal/family member daily. To cover both food and non-food needs, the PSA estimated, a Filipino family of five on monthly basis will need "no less than P10,481 on average."
Tanjusay deplored the government arguments that the present daily minimum wage – which would amount to P13,000 a month – would thus be more than enough to pay for this monthly P10,481 expenses.
This is the reason, Tanjusay pointed out, the TUCP filed this wage hike petition despite the obvious zero chance of this even being considered at all.
He conceded it is futile to push for a legislated wage hike although labor groups like TUCP, has party list representatives in Congress. The last legislated across the board wage increase was P25 a day passed during the administration of the late president Corazon Aquino. The landmark law depoliticized wage-fixing as it left the matter of wage and salary increases to a tripartite body at both national level and in regional basis.
Currently, TUCP has one seat at the 17th Congress through their president Raymond Democrito Mendoza. He recalled Mendoza filed last year, a House Bill seeking P320 across-the-board legislated wage increase did not even reach the committee level.
Speaking of party list groups, the militant party list groups, currently members of the 17th Congress, Bayan Muna, Anak-pawis, Gabriela and Kabataan participated during the Labor Day protest rallies with their most visible red and yellow flags and shirts. The red and yellow Labor Day protest had an interesting anecdote that was shared with me by a high school student who got his first brush with the so-called "hakot" crowd.
While he was standing to get a jeepney ride in España Boulevard in Manila and innocently wearing also a red shirt that day, the young student got surprised when a man suddenly approached him and handing out a piece of white envelop, and told him: "Bro, come join us!" Then this man got back to his fellow rallyists shouting with them: "Oust Du-ter-te!"
Not knowing any better, the youngster opened the envelop and saw a crispy P500 bill. For the fund of it, there goes our taxpayers' money.