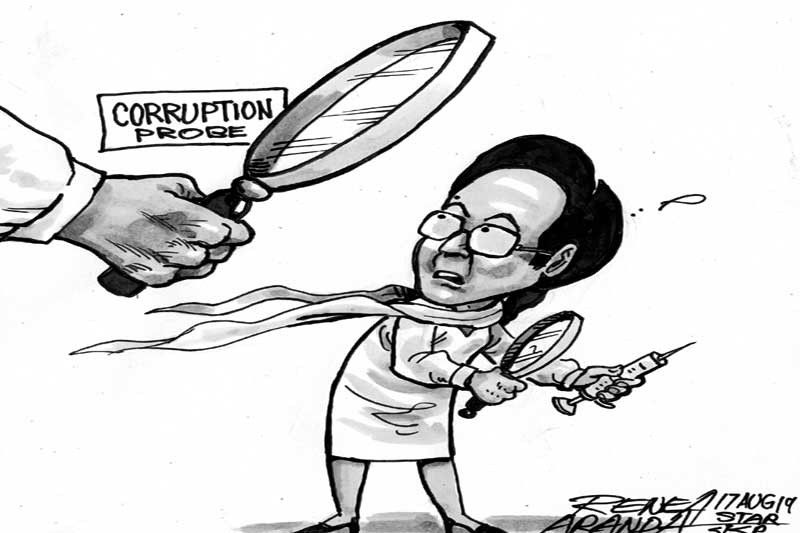 Amid controversy over an unsigned manifesto, the Office of the Ombudsman has found sufficient ground to launch a formal investigation of Public Attorney's Office chief Persida Acosta and PAO's forensics head Erwin Erfe.
The probe stems from a complaint filed by private lawyer Wilfredo Garrido Jr. in October last year, questioning among others the legality of the creation of the forensics laboratory. Garrido argues that Republic Act No. 9406, which created the PAO, does not provide for such a lab, and legislation is needed to create a new office.
Garrido filed charges of graft, falsification of public documents and malversation of public funds against Acosta and Erfe for "fanning the flames of public hysteria" by attributing 80 deaths to Dengvaxia using what Garrido described as questionable autopsy reports by the PAO forensics lab.
In his complaint, Garrido sought the preventive suspension of Acosta and Erfe – the same request given in the unsigned manifesto. PAO lawyers have reportedly disowned the manifesto, and Acosta has asked the ombudsman to strike it down from its records, condemning it as a demolition job. The ombudsman, however, has found sufficient ground to investigate Garrido's complaint.
As important as the accusations of graft is the impact of the PAO campaign against Dengvaxia on public health. The Department of Health and experts from the University of the Philippines – Philippine General Hospital have said there has been no conclusive link between Dengvaxia and any death even among seronegative vaccine recipients, or those who have never had dengue.
The Dengvaxia scare, however, drove people away from vaccines in general, leading to a plunge in immunization coverage even for long-tested vaccines such as those for measles, polio, diphtheria and whooping cough. Only a surge in measles deaths compelled parents to bring their children back to immunization teams.
Last month, the World Health Organization included Dengvaxia on its 2019 Essential Medicines List, which guides countries on the most effective and safe medicines to meet the most critical needs in a health system. The vaccine comes with the warning that it might lead to a more serious case of dengue for seronegative recipients.
The PAO is under the Department of Justice, and the public awaits Malacañang's move.