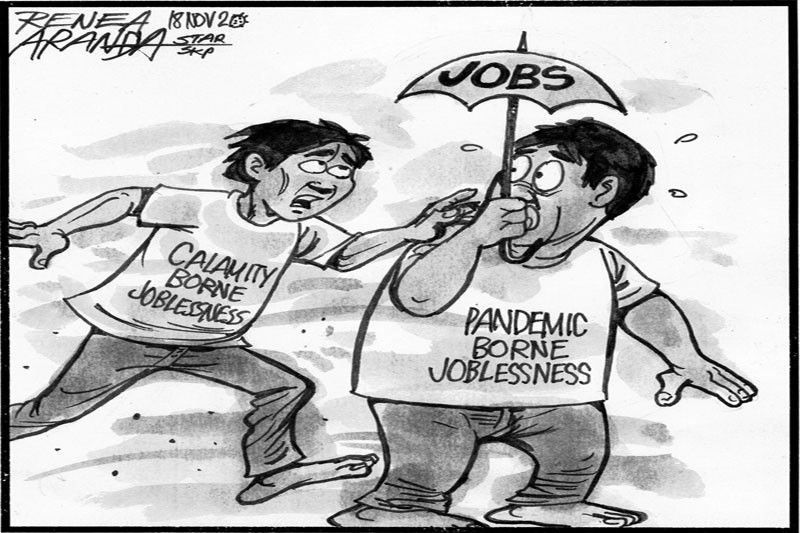 With many businesses and livelihood sources still unable to recover from restrictions imposed to curb COVID transmission, natural calamities have now crippled many areas. Until yesterday, floods had not yet fully subsided in areas worst hit by Typhoon Ulysses. In certain communities even in Metro Manila, thick mud has slowed down the full restoration of basic services such as water and electricity.
The muddy deluge has forced the city government of Marikina to suspend classes for a month. With houses ruined by mud and WiFi and electricity connections disrupted, even distance learning is not possible. Recovery will take even longer in the inundated parts of Cagayan Valley.
Super Typhoon Rolly, which preceded Ulysses by only about a week, also wreaked havoc in the Bicol Region, Calabarzon and Mimaropa. The Department of Labor and Employment estimates that some 300,000 to 400,000 families in the three regions alone have been displaced by the recent typhoons. The figure is certain to go up as the extent of devastation in Central and Northern Luzon as well as Metro Manila is ascertained. DOLE officials fear a spike in unemployment as a result of the natural disasters.
With three to five more tropical cyclones expected before the year is over, unemployment could further worsen. The flooding in Cagayan Valley and Central Luzon has destroyed farms and displaced agricultural workers. Dole-outs cannot be enough to get everyone through the hard times. Temporary employment schemes will have to be developed to make up for lost livelihoods. The clearing of communities buried in mud and the restoration of ruined structures, for example, can provide emergency employment.
The loss of livelihoods also raises another problem: it makes people vulnerable to exploitation and abuse. In the aftermath of Super Typhoon Yolanda, there were reports of a spike in sex trafficking, including those involving children. With the COVID quarantines and consequent livelihood losses, child welfare advocates noted a significant increase in online sexual exploitation of children, with parents themselves often subjecting their kids to sexual abuse. Such problems add to the urgency of creating employment and livelihood opportunities in the typhoon-ravaged areas.