Opinion
EDITORYAL - Humanitarian crisis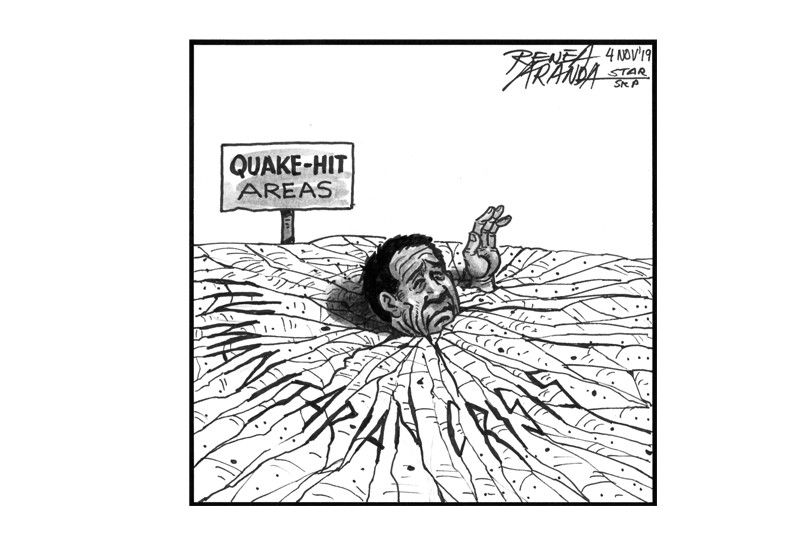 In various parts of Central Mindanao, displaced residents lined the streets, begging for food, water, tarpaulins to put up tents for temporary shelter. Some motorists who tried to help by giving away bottled water and food were mobbed.
Disaster mitigation officials have admitted that Cotabato and the other areas hardest hit by two powerful earthquakes last week, with over a thousand aftershocks, are now facing a humanitarian crisis. Three more earthquakes were recorded over the weekend, milder but still triggering panic.
Seismologists had warned of a powerful earthquake – the Big One – hitting the country, but in Metro Manila, not Mindanao. Still, Cotabato in particular has been devastated by powerful earthquakes and one major tsunami in the past half-century. Scientists have long identified several seismic faults in the area while the Cotabato Trench has generated strong tsunamis. So disaster preparedness should be among the priorities of both the national and local governments in the affected areas.
Yet the lack of preparedness even for post-disaster mitigation is plain to see, days after the two strong earthquakes struck. In several areas in Central Mindanao and the Davao region, there are no decent evacuation centers and there is no organized response to the needs of victims for the most basic necessities. Displaced people are camped out near roads, waiting for Good Samaritans to ease their suffering.
City governments in the affected areas, with more resources and easier access to earthquake victims, have responded faster to the humanitarian needs and ordered the inspection of buildings and public works facilities for structural integrity. The response, however, has been much slower in the less developed villages outside urban centers. Seismologists have warned that the earthquake swarm could last for some time. Easing the suffering of affected communities calls for more decisive measures.