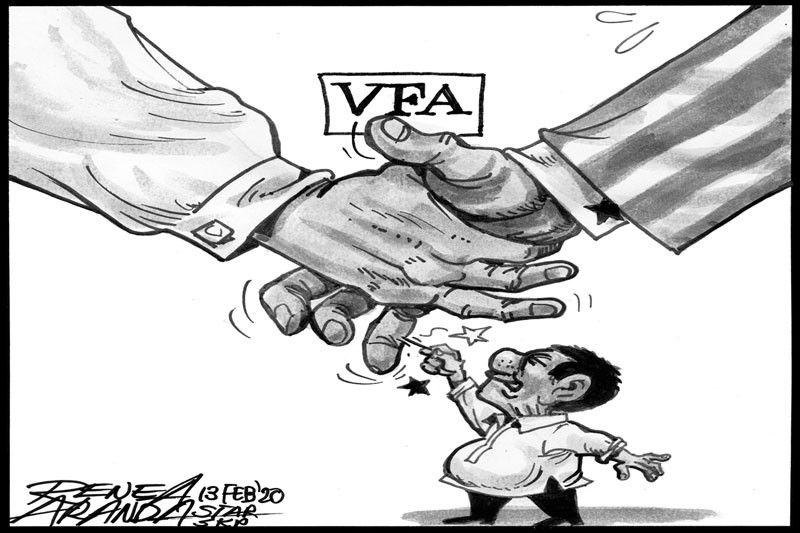 Ignoring a Senate resolution, cautionary calls from several Cabinet members and – according to President Duterte himself – an appeal from his US counterpart Donald Trump, Duterte has ordered the Department of Foreign Affairs to serve the notice of termination of the Visiting Forces Agreement to the US government.
The Mutual Defense Treaty and Enhanced Defense Cooperation Agreement remain in place, but the VFA is needed to operationalize numerous aspects of the MDT, which underpins the decades-old security alliance between the two countries.
Senators are still mulling whether they should demand a say in the abrogation of an agreement that required the ratification of the chamber. In the meantime, the two countries have 180 days to wind down programs and projects involving the presence of US troops in the Philippines.
The two countries conduct an average of about 300 joint military exercises or operations every year, to enhance inter-operability not just for external defense but also for cooperation in humanitarian activities, counterterrorism and support in law enforcement involving cross-border crimes.
President Duterte has said his move is in pursuit of his avowed independent foreign policy. His preferred ally China, meanwhile, continues to occupy Panganiban or Mischief Reef over which the Philippines has sovereign rights, and which effectively exercises control over Panatag or Scarborough Shoal off Zambales.
If the President wants to drastically scale down the country's security alliance with the United States, which remains the biggest source of foreign military assistance for the Armed Forces of the Philippines, the government must be prepared to replace what will be lost in the AFP's effort to achieve minimum credible defense capability.
Both sides stand to lose something in the VFA abrogation. The question is how well either side can deal with the loss. The US can still maintain its military presence in the region through its bases in Japan and South Korea and its special security arrangements with other Southeast Asian countries such as Singapore, Thailand and even its former enemy Vietnam.
It is unclear how the VFA abrogation will affect US military aid. The Philippines has a status of visiting forces agreement with Australia and defense cooperation arrangements with several other countries. The AFP sources military hardware from Japan, South Korea and certain other countries.
It will require a substantial infusion of funds, but the Philippines may be able to replace whatever might be lost as a result of the scrapping of the VFA. What will be harder to replace is confidence in the Philippines' commitment to its alliances. Such alliances must be defined by broad, long-term national core values rather than personal whims that shift with every leadership change.