Opinion
EDITORIAL- Accountability in MRT 3 mess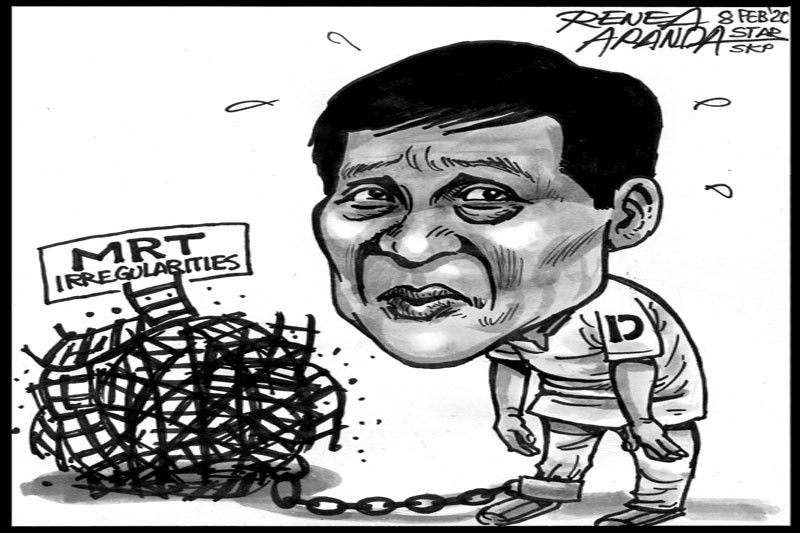 They were cleared on charges of trying to extort $30 million from Czech firm Inekon. On Thursday, however, former Metro Rail Transit 3 general manager Al Vitangcol III and his wife's uncle Arturo Soriano were convicted of graft by the Sandiganbayan in connection with the award of a multimillion-dollar MRT 3 maintenance deal to a firm where Soriano was an incorporator.
The contract involved payment of $1.15 million a month for six months to PH Trams. The amount involved is above the P50-million threshold for a plunder case, which would have carried a heavier penalty. The Office of the Ombudsman, however, filed a case merely for graft and violation of the Government Procurement Reform Act. Vitangcol and Soriano can remain free on bail while appealing their conviction and combined sentence of up to 16 years.
They had been cleared of the extortion case due to weak evidence. This was after the Sandiganbayan refused to postpone the testimony of one of the accusers, former Czech ambassador Josef Rychtar, who had submitted a sworn affidavit regarding the alleged shakedown that he said took place at his official residence in Forbes Park during his Manila posting.
PH Trams won the maintenance deal after the government did not renew the contract of Japanese giant Sumitomo in 2012. The contract was then awarded in a simplified bidding ostensibly under an emergency situation, to a company with a capitalization of only P625,000 that was organized just two months before it won the bid, and with zero experience in train maintenance. The transport and communications secretary at the time, Joseph Emilio Abaya, testified at the Senate that he did not scrutinize the credentials of PH Trams when he approved the deal. Abaya faces a separate graft case for another MRT 3 maintenance contract.
What followed was a long string of glitches in the MRT 3, from electrical failures to doors that won't close and even seats that caught fire. Stranded commuters forced to disembark and walk along the railway tracks became a common sight.
Such are the consequences of corruption. With Sumitomo now back as MRT 3 maintenance operator, the glitches have gone down. The conviction of Vitangcol and Soriano is just one step in the pursuit of accountability and justice.