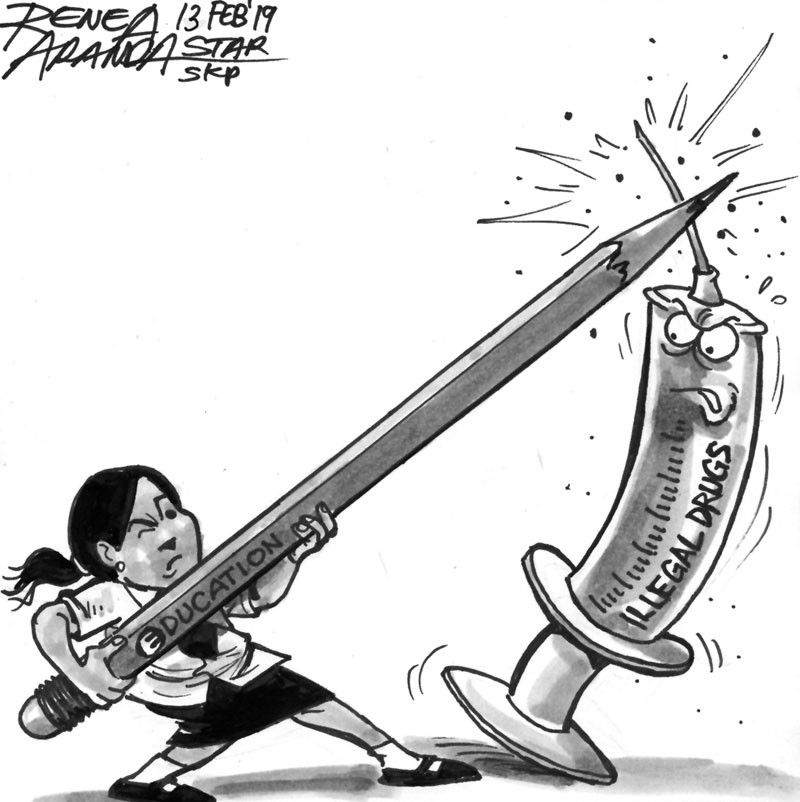 Drug education
After targeting suppliers of prohibited drugs, the government is giving increased attention to curbing demand. Children from kindergarten to Grade 12 will soon be taught about the evils and prevention of drug abuse.
The details are still being ironed out by the lead agencies in the information campaign, the Departments of Education and Health. Getting the DOH on board, however, indicates that the drug menace is being seen not just as a law enforcement problem but also as a public health issue. This is the approach adopted by several other countries.
Of course the law enforcement aspect also cannot be ignored. Apart from being taught about the health problems associated with drug abuse, school children at a certain academic level can be educated about the consequences of violating the Comprehensive Dangerous Drugs Act. The country has some of the toughest laws against drug offenders. Even if Congress does not lower the age of criminal responsibility, teenagers who violate those tough drug laws can either end up in juvenile rehab, or dead ostensibly after resisting arrest in a police anti-drug sweep.
Any education program on the perils of drug abuse should also include information on the rights of suspected drug personalities, and what school children can do in case of a police raid or drug bust. This also means knowing what to watch out for to discourage police abuses.
The education campaign must be matched by investments in hiring health professionals and boosting facilities for counseling troubled youth as well as rehabilitating drug dependents. The few such facilities available are mostly beyond the reach of drug abusers in low-income communities, where President Duterte says the majority of shabu users live.
In impoverished communities, the education campaign should cover not only the perils of using shabu and other prohibited drugs but also the health problems associated with habitual sniffing of rugby, an easily obtainable substance that provides a cheap high. Rugby is the "drug" of choice of out-of-school street children; social welfare officers will have to find ways of drawing such kids into the education campaign.
Implemented properly, this campaign can address the demand aspect of the drug menace, which has taken a backseat in the ruthless war on drugs.