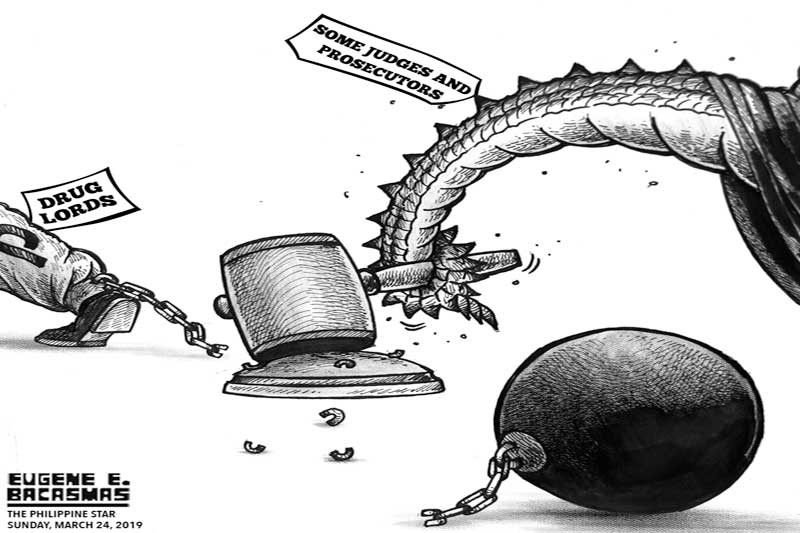 Dirty judges
Considering the number of drug trafficking cases tossed out by the courts and drug defendants cleared or allowed to post bail based on questionable premises, there must be more than 13 judges and 10 prosecutors who can be held liable for abetting the illegal drug problem.
Unless the government files formal charges against them, however, those judges and prosecutors who are reportedly also on the so-called narco list cannot be identified in public, as President Duterte did recently with the 43 local government officials and three congressmen.
The collusion of crooked judges and public prosecutors with drug traffickers has been a frustration for law enforcers. Drug money is big money, and some members of the judiciary and prosecution service might be unable to resist payoffs large enough to ensure them of a comfortable retirement. Corruption in the judiciary is surely a factor behind the readiness of certain lawmen to resort to extrajudicial methods of neutralizing drug personalities.
Still, the Constitution guarantees the presumption of innocence. In the relentless campaign against prohibited drugs, the government must avoid maligning the innocent and destroying reputations. Many judges have dedicated their entire adult life to the judiciary and have done their best to serve with competence and integrity. Baseless and malicious accusations can cause irreparable damage to a person's reputation.
Equally worrisome, in this time of Oplan Double Barrel, is that judges and prosecutors named in the list could be targeted for murder, not necessarily by anti-narcotics cops but by parties unhappy with court rulings.
As in the case of the 46 officials named in the narco list, evidence must be presented and strong cases built against the judges and prosecutors. Being members of the legal profession, they are expected to put up a spirited defense if ever they are indicted or publicly linked to criminal activities. The government must make sure it will win the legal battle.
Besides initiating administrative and criminal proceedings, the government must move to recover dirty money. This is being done in the case of the 46 named recently in the narco list, with the help of the Anti-Money Laundering Council. Judges and prosecutors can be subjected to lifestyle checks and tax probes.
The involvement of judges and prosecutors in drug rackets is not farfetched. But authorities must make sure they will spare the innocent while pinning down the crooks with solid evidence.