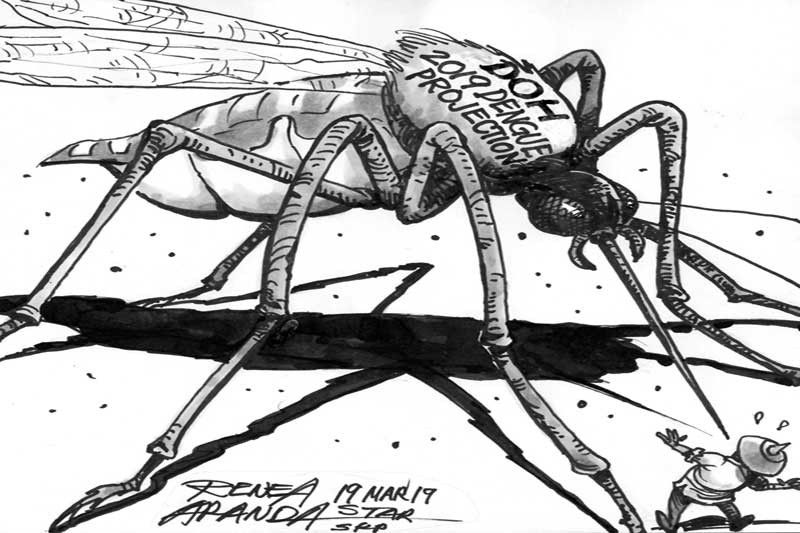 Dengue epidemic
Even with El Niño and the onset of summer, mosquitoes are all over this tropical archipelago, transmitting viruses that bring diseases and even death. From Jan. 1 to March 3 this year, the Department of Health recorded 40,614 cases of dengue nationwide, up from 24,231 cases during the same period last year. The DOH recorded 140 deaths since the start of the year due to hemorrhagic fever.
Near the end of February, DOH records showed that Central Visayas registered the highest number with 4,089, followed by Caraga with 3,876, Metro Manila with 3,821, Calabarzon with 3,767 and Central Luzon with 3,070. The increase has been unabated, with health officials warning that the disease has reached epidemic proportions in certain areas. In the Zamboanga peninsula, dengue cases went up by 81 percent from Jan. 1 to March 7 compared to the same period in 2018, with Zamboanga City registering a surge of 213 percent.
For those who have already experienced dengue, there is a vaccine to prevent its repeat. Despite the scandal that erupted over the use of Dengvaxia in the Philippines, health professionals are still recommending the vaccine for those with a history of dengue.
The vaccine, however, may pose health risks to those who have never had the disease. And with Dengvaxia being blamed for scores of dengue-related deaths, people are reluctant to avail themselves of the vaccine even if it is given for free.
So the next best thing is prevention. The measures have been known for some time: surroundings must be kept clean and free of places with stagnant water where mosquitoes can breed. It is advisable to use mosquito nets and insect repellent, and to wear pants and long-sleeved shirts that protect the skin from mosquitoes. Early diagnosis is critical for preventing deaths. Barangay and health officials must intensify information campaigns about dengue symptoms. The Dengvaxia scare must not lead to more dengue deaths.