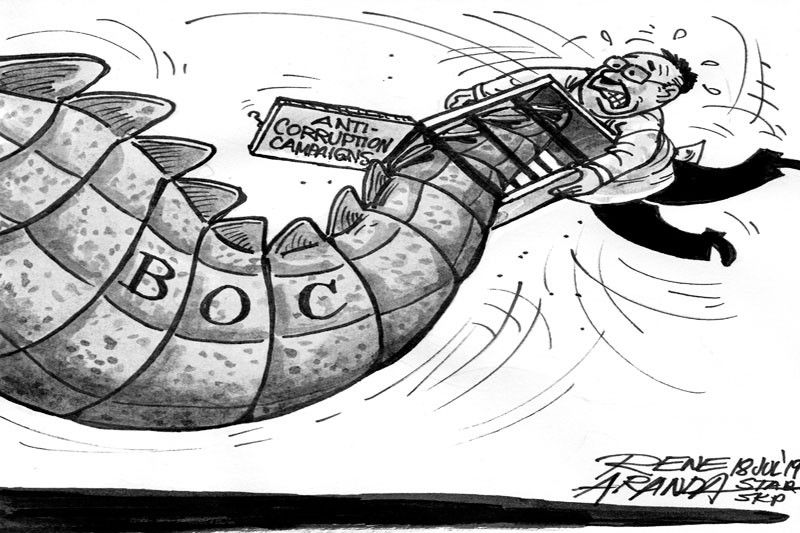 Many employees of the Bureau of Customs have civil service eligibility and can be removed only for cause. With the snail-paced justice system, the turnover of BOC commissioners has been much faster than that of regular bureau personnel who face charges of corruption and smuggling.
So it won't be easy even for the president of the republic to remove from the BOC up to 64 officials and employees reportedly implicated in corruption. President Duterte, however, can place the employees on "floating" status while administrative and criminal charges are pursued against them.
Every administration has tried to clamp down on a bureau that has been described in every survey as one of the three most corrupt government agencies. A week before the fourth State of the Nation Address of President Duterte, Finance Secretary Carlos Dominguez III said the government still has a long way to go in curbing corruption in the BOC.
As in previous administrations, the current one is moving to plug opportunities for corruption by reducing people-to-people contact and personal discretion in BOC processes. Customs personnel have thwarted similar attempts in the past by damaging computers and cargo scanning equipment. But Dominguez said technology now makes it more difficult to sabotage automation processes.
Apart from automation, a critical element of stopping entrenched corruption is prosecuting the crooks and preventing them or their relatives from enjoying the proceeds of their crime. A special court can be created to fast-track the prosecution and conviction of the corrupt. Unexplained wealth must be unearthed, frozen and eventually forfeited. The Anti-Money Laundering Council can be called in to enhance the crackdown. The certainty of being caught and punished, with the proceeds of crime seized by the state, can be the best deterrent to corruption.