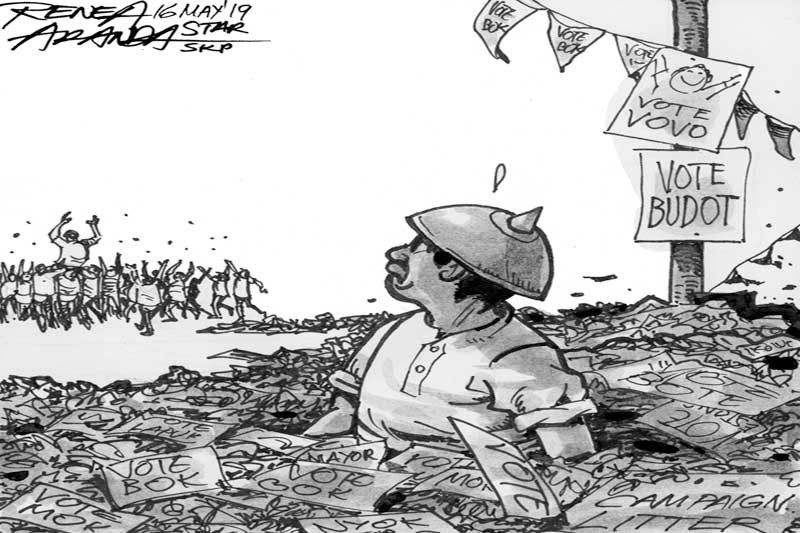 With the Commission on Elections unable to enforce the rules, candidates brazenly violated the guidelines set on the display of campaign materials. Incumbent officials displayed their campaign posters even in government buildings and compounds, in violation of Comelec regulations.
Candidates of all political colors ignored even appeals by environmental groups to spare trees from their posters and to refrain from stringing their streamers on electrical and telecommunications wires.
It remains to be seen whether the Comelec will go after even a single violator of the rules on common poster areas. In the meantime, candidates should make up for their violation of the rules by cleaning up their own materials. They should send a clear message to all their supporters that with the elections over, it's time to take down all campaign materials and to dispose of the trash properly. Walls and lampposts must be cleaned and rid of any political and epal messages.
In the National Capital Region, seven truckloads of campaign trash have been collected so far by the Metropolitan Manila Development Authority. Candidates must help the MMDA in this effort.
The Comelec must also clamp down on candidates littering the landscape with post-election garbage, this time thanking the voters for the poll results. There are posters of incumbent local officials that have been on display since Christmas. Private individuals must pay for advertising space in public places, and only in designated areas. Government officials do not own public spaces. Why should they have the privilege of putting their faces and messages wherever they please?
Winners and losers alike violated the rules on the display of campaign materials. They should not leave their garbage for others to clean up.