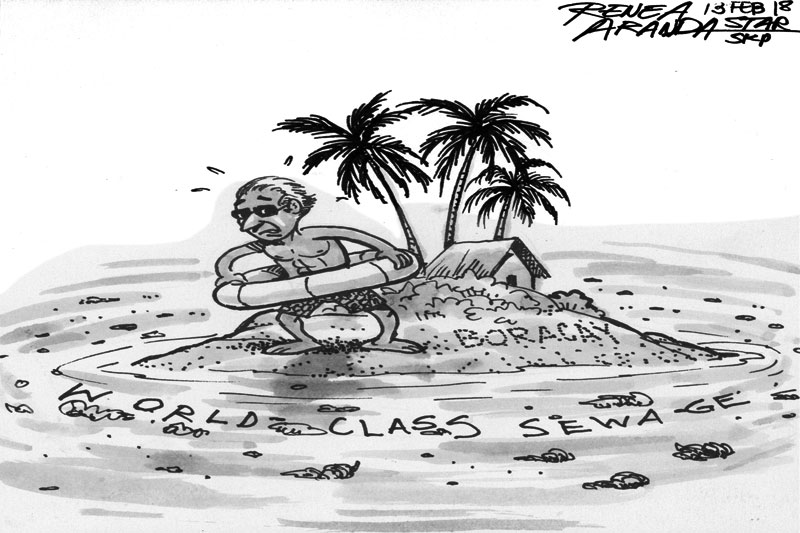 With its powdery white sand, Boracay has been consistently selected by travelers as one of the best islands in the world. President Duterte, however, sees the island in Aklan in a different light. In recent speeches, the President warned that Boracay had turned into a "cesspool" and he would close the island to tourism if stakeholders failed to clean it up.
Boracay is one of the country's top tourism destinations, and the island's numerous resorts and hotels are currently preparing for summer, the peak travel season. The President's warning comes at a bad time, but his defenders say this could give urgency to the long overdue cleanup.
The President is unlikely to take back his words, and in the digital age, this story cannot be put back into the tube. Rather than bemoan the President's assessment, the best thing that stakeholders can do is to work ASAP to clean up the island, and to show the world that the effort will be sustained.
In fact the island has been bugged by sanitation problems for some time now, with some quarters warning about the consequences of poorly regulated construction and overdevelopment. Similar problems bedevil other popular travel destinations such as Baguio City.
Boracay's top attractions, the fine sand beaches and sparkling sea, will always be there. All they need is proper care, through efficient waste disposal and sanitation facilities. The island is a national heritage, and those who live, work and run businesses in Boracay are its custodians.
President Duterte's scathing assessment of the state of the island can be seen as a call for the custodians to do a better job. After this setback, Boracay should emerge cleaner, better, and an even more attractive, world-class travel destination.