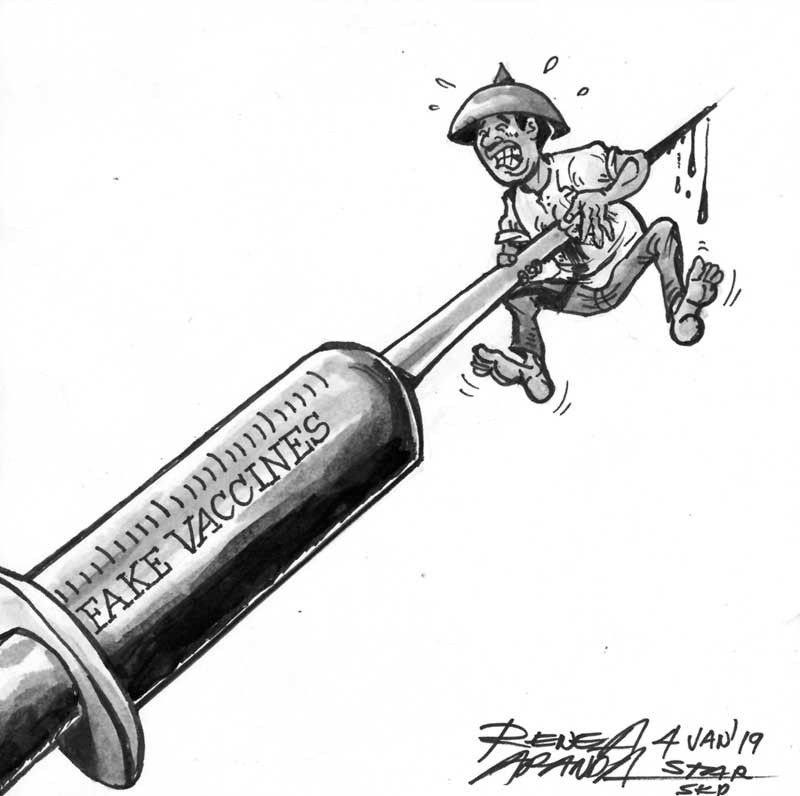 Another vaccine problem
Even as health officials are still trying to regain public trust in vaccines, the Food and Drug Administration has launched a probe into the emergence of a fake and unregistered anti-rabies vaccine that was reportedly manufactured in the country and sold to several hospitals.
The World Health Organization has issued an alert on the fake Verorab vaccine circulating in the Philippines. Counterfeit medicine can act merely as a placebo. This can be dangerous particularly in afflictions such as rabies, which can lead to death once the symptoms are manifested and treatment is too late. Fake drugs can also interact with other medications or existing health conditions, with potential harmful consequences, the WHO warned.
Perhaps the local manufacturer simply broke down the composition of the Verorab vaccine and created a local clone, whose safety and efficacy could be the same as the original. Even this act, however, constitutes theft of intellectual property, with the registered manufacturer Sanofi Pasteur likely to take the copycat to court.
Sanofi Pasteur is still facing a legal battle over the administration of its anti-dengue vaccine Dengvaxia to 830,000 Filipino school children starting in the final months of the Aquino administration. Additional testing later showed that the world's first vaccine against dengue could have harmful effects on those who have never had the potentially deadly hemorrhagic fever. Sanofi Pasteur itself announced the risk and has since modified its warnings on Dengvaxia use. But the damage has been done in the Philippines, where the Dengvaxia scare has led to an alarming plunge in all types of vaccinations.
The WHO warning over fake Verorab can only exacerbate the scare. Health authorities said the fake vaccine was distributed to 43 hospitals and pulled out in three. The vaccine was administered to two patients. This problem should lead to tighter screening of medicine sold in the country. The FDA needs a strong boost in its capability to ensure the safety of drugs that are imported and distributed or are made in the Philippines.
Just as authorities are going after those who may be found liable for the harm caused by Dengvaxia on those who have never had dengue, they must also make sure that those who manufactured the faked Verorab and sold it to hospitals will face the full force of the law.
Accountability must be ensured not just for the potential harm done to those who received the fake vaccine, but also for exacerbating the scare that could lead to deaths from diseases that can otherwise be prevented by tested and reliable vaccines.