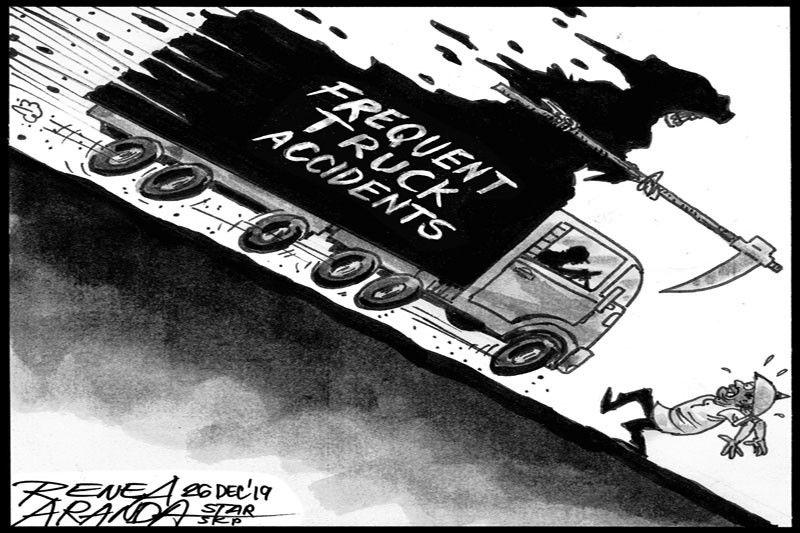 Last week in the Rizal town of Cardona, nine people died when a truck transporting sand struck a dump truck and then went on to hit a jeepney. At around the same time in Indang, Cavite, a truck smashed into a line of vehicles along the road, killing two tricycle drivers. Probers said the truck driver lost control of the wheel.
The country has a high incidence of fatal road accidents, with the most grievous often involving large vehicles – buses and trucks that careen out of control. The risks are particularly high during peak travel seasons such as the Christmas holiday break.
Now President Duterte reportedly wants to put an end to the accidents involving speeding trucks. "It's like a massacre almost every day," the President said at a recent public gathering. "It has to stop."
Accidents happen, but it shouldn't prove impossible to minimize the risks. The most common reason cited for truck and bus accidents is the malfunctioning of brakes. This can be avoided if owners subject their vehicles to regular maintenance, with special focus on keeping brakes in good shape.
Owners must also be prohibited from making their drivers work for prolonged periods – even if the drivers themselves ask for the overtime opportunity. Sleep deprivation aggravates physical fatigue, impairing the reflexes and mental acuity that are indispensable for safe driving. Some drivers compound the risks by taking shabu to stay awake during long trips.
In line with the President's order, legislation is needed to increase penalties for companies or individuals whose trucks and buses figure in fatal accidents. Those who have a franchise for public conveyance are duty-bound to ensure the safety of both the passengers and the company's employees.
Then there is the quality of the road network. All vehicle owners pay a road user's tax, which is meant to be spent on road safety measures including cliff barriers, motorist signage and road studs called cat's eyes as well as on the maintenance of secondary roads and drainage. Corruption allegations, however, have hounded the utilization of the Motor Vehicle User's Charge. This tax must be used properly or else abolished, as pushed by certain quarters.
Finally, there is the issue of enforcement. If the President wants to stop trucks from speeding, the drivers and operators must get the message clearly that the government means business. Speed limits must be enforced – and violators must be apprehended and imposed appropriate penalties.