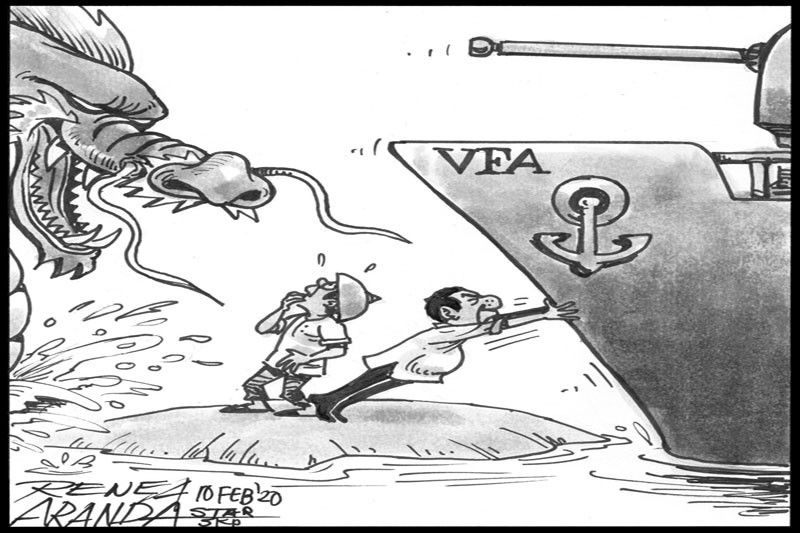 Key Cabinet members as well as Senate leaders of both the majority and minority are speaking up, calling for caution in what appears to be a kneejerk rush to abrogate the Visiting Forces Agreement between the Philippines and its treaty ally the United States. A similar cautionary message has been aired even by Sen. Ronald dela Rosa, whose US visa cancellation ostensibly triggered President Duterte's decision to abrogate the VFA.
The VFA was crafted during the administration of Fidel Ramos and ratified by the Senate during the presidency of Joseph Estrada. It was operationalized when then president Gloria Macapagal Arroyo invited American forces back in 2002, to help the Philippines fight the terrorist group Abu Sayyaf, which was on a ransom kidnapping spree that had scared away tourists and investors.
In the years between the bases shutdown and the US troops' return, China began reclaiming Panganiban or Mischief Reef off Palawan, where Philippine and US troops used to conduct joint maritime exercises. From three huts that Beijing claimed were simply fishermen's shelters, a multistory building now sits on an artificial island on the reef, over which an arbitral court in 2016 had awarded the Philippines sovereign rights. The Philippines, with its weak capability for external defense, could not get back Panganiban Reef.
A balance of power is needed to ensure freedom of navigation in the South China Sea and free airspace. The Philippines happens to be a treaty ally of the country that can provide that balance of power in the region. As Cabinet members and Senate leaders have pointed out, this alliance, under the Mutual Defense Treaty, needs the VFA.
Aside from external defense, the VFA is needed for US troops to provide rapid humanitarian assistance during emergencies such as killer typhoons and earthquakes. The VFA is also needed for bilateral military cooperation in fighting terrorism as well as drug trafficking, human trafficking and other cross-border crimes.
Alliances are built on shared goals, values and long-term national interests, and should transcend the short-term issues of individual administrations. As VFA defenders in the Cabinet have pointed out, any lopsided provision in the agreement can be corrected through negotiations. President Duterte has friendly ties with his US counterpart Donald Trump. They can discuss the VFA issue with friendship in mind, both on the personal and national levels.