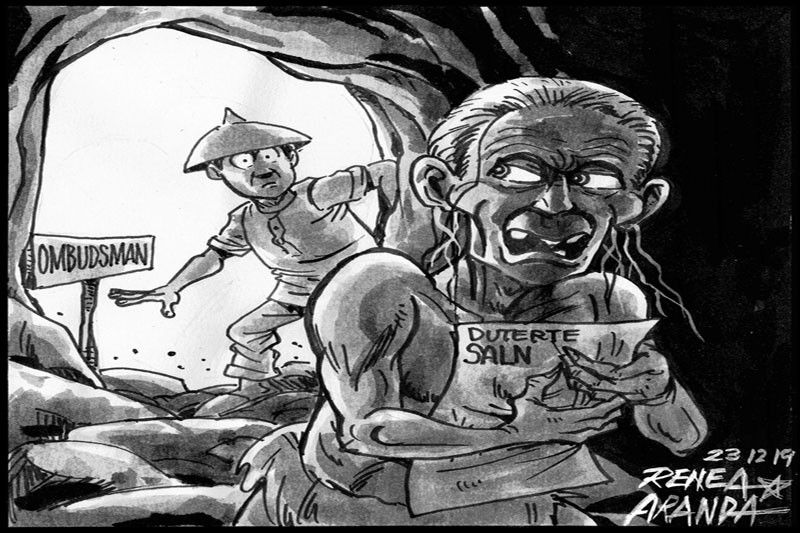 Since 2016, the release to mass media of the official asset statement of President Duterte has been largely routine. The President has often said he hates corruption and has nothing to hide. The relatively fuss-free release of his annual statement of assets, liabilities and net worth or SALN is one proof of this.
So the inevitable question this year is what has changed, as Ombudsman Samuel Martires holds on to the SALN of the President. Martires had told reporters who had asked for Duterte's 2018 SALN to go to Malacañang instead, ostensibly because the Office of the Ombudsman was still finalizing the rules on such releases.
Malacañang, responding to requests from media organizations, in turn pointed them to the ombudsman, with the Palace spokesman saying the rules required the President merely to file rather than release the SALN.
For the past three decades until the time of Martires' predecessor, Conchita Carpio-Morales, the public and the media have never had a problem in obtaining the SALN of the president of the republic. Duterte never had any problems with the yearend disclosure of his SALN.
It is ironic that this is happening under a President who professes transparency and whose Executive Order No. 2 mandated freedom of information in all offices of the executive branch. Malacañang said the President had filed his 2018 SALN on time, beating the deadline on April 30.
Despite the reasons cited by Martires, the lack of clear-cut rules on the release of SALNs did not stop Vice President Leni Robredo from releasing her 2018 asset statement to the public. Martires must be carrying over to the Office of the Ombudsman the secrecy in the Supreme Court, where problems with asset declarations have contributed to the ouster of two chief justices.
Members of the SC and Congress have always been the most resistant to the release of their SALNs to the public. Lawmakers – with all their bodyguards paid for by taxpayers, and the top accountants that made Imelda Marcos, when she was still a congresswoman, appear to be the poorest member of the House of Representatives – claim the SALN release could expose them to security threats.
When it comes to transparency in assets, the public perception is that those who have nothing to hide have nothing to fear. The ombudsman should even set the example – by releasing his own SALN to the public. Martires' actions constitute a step backward in efforts to promote transparency and good governance.