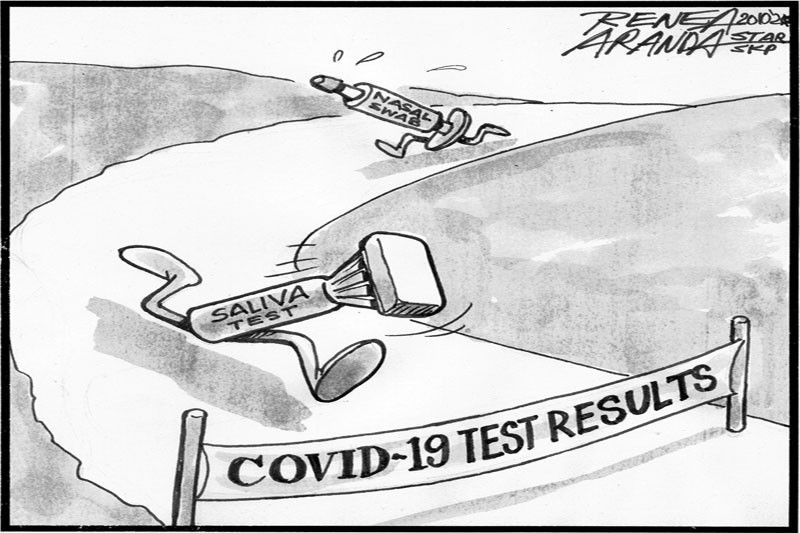 One major deterrent to the revival of tourism and several other businesses is the requirement on flights and travel establishments for a real-time polymerase chain reaction swab test – the so-called gold standard in testing for COVID-19. Prices for the RT-PCR test range from P3,500 in the Philippine Red Cross to a high of P12,000 in some private facilities. Marikina residents have access to the local RT-PCR for less than P1,900, but the supply is limited.
So every effort must be made to speed up the approval of a cheaper, faster and equally accurate way – according to scientists – of detecting the COVID-causing coronavirus: the saliva test. The Philippine Red Cross finally has the saliva testing kits from the United States, which have undergone trials in the US and now in the Philippines beginning on Sept. 18. Samples were processed at PRC laboratories in collaboration with the University of Illinois at Urbana-Champaign and the University of the Philippines.
With results out in about three hours, and at an estimated P2,000 per test, the PRC saliva test can revitalize the battered domestic travel and tourism industry. More local governments and private companies may be able to afford giving the tests for free to residents and employees.
It's not the saliva test developed in Israel, which produces instant and accurate results at a much cheaper price, or the one now being used in Japan, which has allowed more flights and travel on other modes of mass transportation in that country. The government should work to obtain these saliva tests. Still, the PRC tests are a good start for a better, faster, less invasive way of COVID testing.
With the Red Cross tests leading the way, the saliva tests could be a game changer, speeding up economic recovery as the country waits for several more months before vaccines now being rolled out in the United States and other countries reach the Philippines. The PRC said the tests are awaiting approval from the Department of Health. The approval should not become entangled in any red tape.