National
Trillanes: 'Bikoy' video belies ouster plot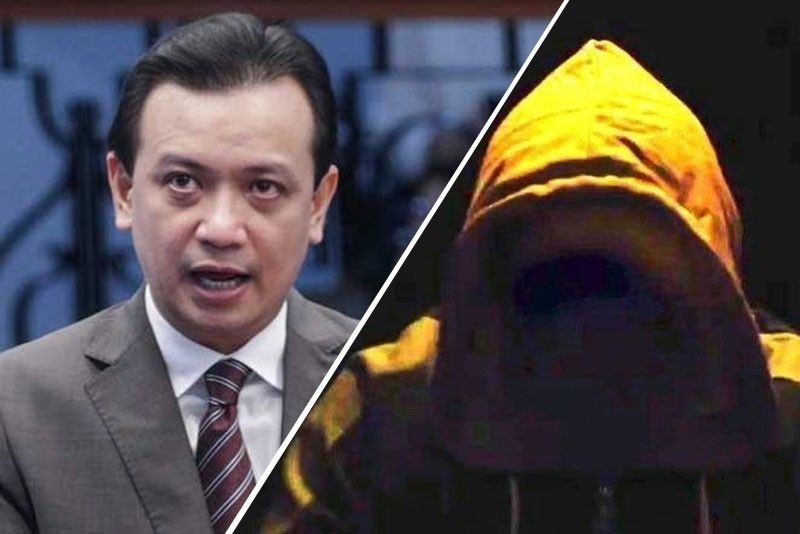 MANILA, Philippines — Opposition Sen. Antonio Trillanes IV presented yesterday text messages and a video of Peter Joemel Advincula, alias Bikoy that he said would debunk allegations that he and other critics are plotting to oust President Duterte.
Trillanes presented a series of text messages between Advincula and a still unnamed priest exchanged sometime in August last year, wherein Advincula was apparently badgering the clergyman to give him sanctuary and money to pay for expenses in connection with his expose.
Nothing in the text messages and the video taken before the Philippine National Police (PNP) presented Advincula to the public last May 22 indicated his or any of his colleagues in the opposition as involved in destabilization plots, he said.
"Can we blame this priest for providing sanctuary to someone who claims his life was in danger? For me, he has been saying the same thing until before he came out (at the PNP headquarters)," Trillanes said in a press conference at the Senate.
"I will venture a theory: He (Advincula) was betrayed by his family, who compromised his whereabouts and there was an offer to him – imagine all the lawsuits against him were erased? Behind him were (PNP) generals, wasn't that under duress? Or was there a promise of reward?" he said.
Submit evidence to PNP
PNP spokesman Col. Bernard Banac urged Trillanes to submit the evidence he presented to the Criminal Investigation and Detection Group, which has Advincula in custody.
Banac said they welcome any evidence that is related to their investigation of the ouster plot, adding that they are not taking Advincula's statements as gospel truth.
Before he first surfaced last May 7 at the office of the Integrated Bar of the Philippines (IBP), Advincula was only known as "Bikoy," the hooded figure in the series of online videos "Ang Totoong Narcolist" where he alleged that Duterte and some members of his family, and allies were involved in the illegal drug trade.
However, when he purportedly surrendered to the PNP, he said the online videos were a production of opposition leaders, including Trillanes and Sen. Risa Hontiveros to destabilize the government.
Trillanes, who is ending his term on June 30, made the presentation to preempt any case the PNP or the Department of Justice may file against him and others in connection with Advincula's last version of his allegations.
"What is the crime? They (authorities) can't allege any crime," the senator said, adding he has many more text messages and videos to prove the opposition had nothing to do with Advincula.
Trillanes said those who recorded the videos and sent him the text messages were willing to surface at the proper time to attest to them.
He said he shared the observation of Senate President Vicente Sotto III, who earlier disclosed that Advincula was the same person who tried to approach his office in late 2016 making the same drug allegations against former president Benigno Aquino III, other former Malacañang officials and Sen. Leila de Lima.
Not proven
Malacañang said Trillanes' fresh allegations do not deserve a response because the senator's previous claims against the president have not been proven.
"He has been claiming that the president has ill-gotten wealth. He has been maliciously imputing that on the President, and he has not submitted any proof on that," presidential spokesman Salvador Panelo said in a chance interview yesterday.
"It's even undeserving of a response," he added.
Asked to react to Trillanes' claim that the opposition is not behind the "Bikoy" videos, Panelo said: "I think Bikoy also has text messages and he showed it during his presscon."
"In other words, it's his words against his, against Bikoy. Maybe both of them are telling the truth," he added. – With Emmanuel Tupas, Alexis Romero