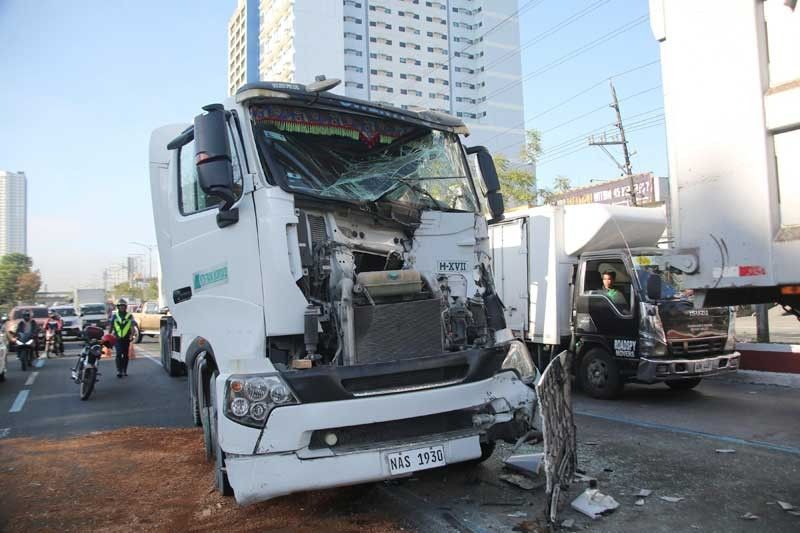 Traffic jams as 3 trucks collide, 2 buses catch fire
MANILA, Philippines — Traffic gridlocks occurred along major roads in Metro Manila since Friday afternoon after two buses burst into flames and three trucks crashed into each other.
Bong Nebrija, EDSA traffic czar of the Metropolitan Manila Development Authority (MMDA), said a Precious Grace Trans bus (TYP-955) caught fire on EDSA's northbound lane before reaching its intersection with Aurora Boulevard in Quezon City just before 5 p.m.
The tail-end of the traffic gridlock reached the EDSA-Santolan Road intersection before it normalized shortly after the bus was removed, he said.
No one was injured or killed in the incident.
At past 6 p.m., a VOTSC Trans bus (TXX-274) caught fire along the EDSA-Shaw Boulevard tunnel's northbound lane in Mandaluyong City.
Two tow trucks removed the bus at around 9 p.m.
MMDA spokesperson Celine Pialago said the bus fire caused a traffic buildup that reached the Magallanes interchange in Makati City.
She said that no one was injured or killed during the incident.
Arson investigators are now conducting an investigation to determine the cause of the fires.
Meanwhile, three trucks crashed into each other along Katipunan Avenue in Quezon City before dawn yesterday.
Police said the collision happened in front of the Ateneo de Manila Unversity at around 4:45 a.m. yesterday.
The last truck, driven by Rodgie Ignacio, 24, supposedly hit the back of a dump truck at a red light. The impact caused the dumptruck to rear-end the truck in front of it.
It took authorities hours before the trucks were towed to clear the highway, causing heavy traffic in the area.
All three drivers were brought to the Quezon City Police District Traffic Enforcement Unit. – Romina Cabrera