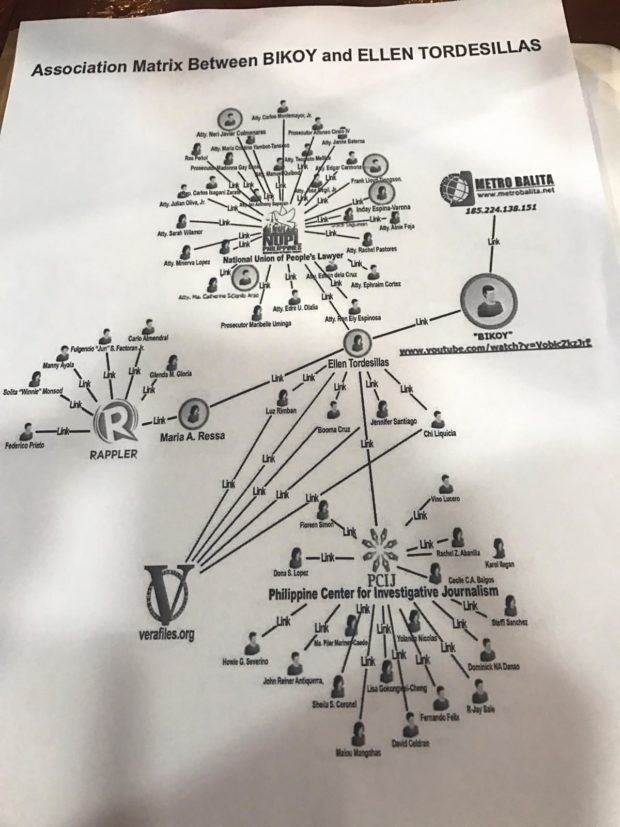 PCIJ says 'matrix' linking journos in oust plot vs Duterte erroneous
MANILA, Philippines —  The matrix linking journalists and media groups to an oust plot against President Rodrigo Duterte is "wrong on many points," the Philippine Center for Investigative Journalism (PCIJ) said on Monday.
"The Manila Times' 'association matrix' and story about a supposed 'oust-Duterte plot' that include journalists connected with the PCIJ are wrong on many points," PCIJ said in a statement.
The media organization was referring to an "Oust-Duterte" matrix published by broadsheet Manila Times. The matrix was also confirmed by Malacañang.
The PCIJ said the story "admits to a crime that may have been committed, and fundamental freedoms that may have been violated."
The media group also said that the experts behind the information invaded privacy of journalists' e-mails.
"It offers tacit admission that these 'experts,' apparently working with the Office of the President, had invaded the privacy of the emails and correspondence of journalists now being singled out," PCIJ said.
"PCIJ had absolutely not nor ever received any email from Ms. Ellen Tordesillas on the link to the so-called 'narcolist video' of 'Bikoy,'" it said.
PCIJ also belied allegations that it posted nor spread any stories or commentaries on the narcolist video.
The media organization revealed that five persons mentioned in the matrix are no longer connected with PCIJ.
"For the record, the 'matrix' had linked at least five persons to the PCIJ who are in fact no longer in PCIJ's employ. Three of the five are personnel who had resigned from as far back as March 2018 to January 2019," PCIJ said.
The media organization cited that human-rights lawyer Jose Manuel Diokno and Summit Media publisher Lisa Gokongwei-Cheng, "had quit their posts in the PCIJ's Board of Editors."
Meanwhile, the PCIJ added that cybercrime experts from the Duterte administration should study about the circulated video.
"The video was posted on YouTube from where the news media and citizens got to watch it. That is where the so-called 'cybercrime experts' of the unnamed 'highly placed source in the Office of the President' should look instead," it said.
Bikoy was the hooded man behind the video that implicated several personalities close to President Rodrigo Duterte to the illegal drug trade.
Aside from PCIJ, other organizations tagged in the ouster plot were Vera Files, Rappler and National Union of People's Lawyers (NUPL). /jpv