National
P1-B shabu seized in Malabon warehouse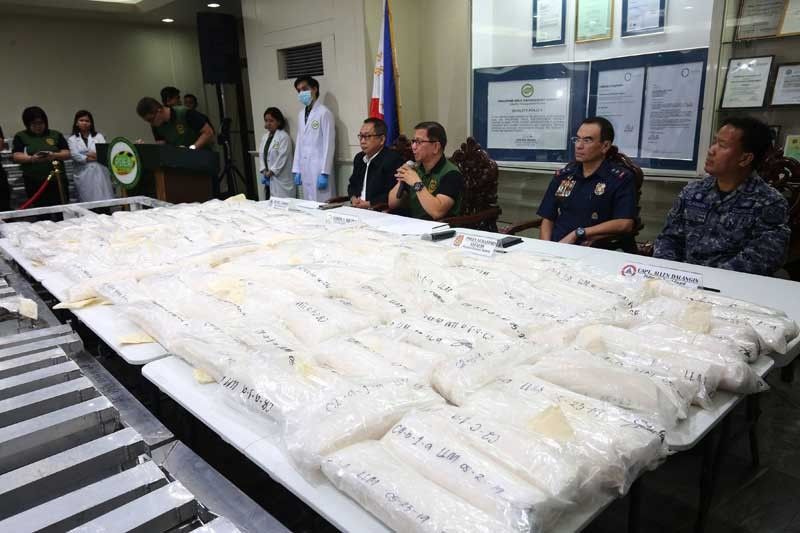 MANILA, Philippines — An estimated 146 kilos of methamphetamine hydrochloride or shabu, stashed inside aluminum pallets, were discovered in a warehouse in Malabon City Thursday afternoon.
Operatives of the Philippine Drug Enforcement Agency (PDEA) rushed to the warehouse along M. Santos street in Barangay Santolan after its owner, Pacita Uy, coordinated with the police shortly before 5 p.m.
A source said one of Uy's employees was unloading sacks of tapioca starch from the container when the forks of the forklift hit several sachets of shabu hidden under the pallets.
Uy immediately went to the barangay then later to the police and reported the incident.
The source said Uy bought the shipping container, which was declared to hold tapioca starch from Cambodia, at a Bureau of Customs (BOC) auction.
There were three containers of tapioca starch but the insider said he does not know who bought the other two.
PDEA chief Aaron Aquino said the shipment is connected to two operations: one in Dasmariñas, Cavite wherein 36 kilos of shabu with a street value of P244 million were seized on Feb. 13 and the other in Tanza, Cavite wherein 274 kilos of shabu worth P1.9 billion were seized on Feb. 3.
The operations resulted in the arrest of Jun Wah Ting and Patrick John Gankee.
During the investigation, PDEA learned that the syndicate was expecting a shipment of shabu concealed in tapioca starch that was consigned to Goroyam Trading.
Aquino said they coordinated with the BOC and located the shipment, which was abandoned, in March. Both agencies decided to auction off the abandoned shipment, hoping that members of the syndicate will participate.
The auction was held last April 22, with Goldwin Commercial Warehouse (GCW) submitting the highest bid.
"PDEA conducted a background check on the owners of GCW and found no evidence linking them to the illegal drug trade," Aquino said.
He said the shipment belongs to the Golden Triangle drug syndicate based in Asia.