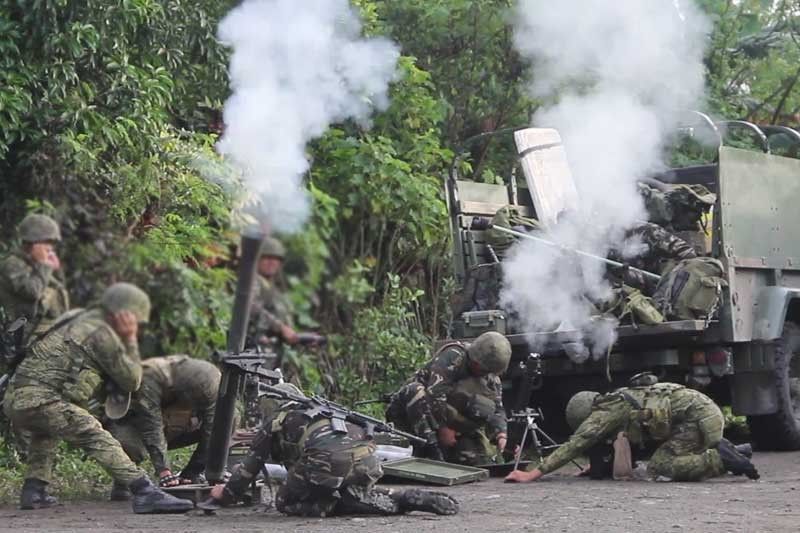 Maute leader, 3 followers slain in Lanao Sur clash
MANILA, Philippines — The self-proclaimed leader of the Maute group, Owayda Benito Marohomsar, alias Abu Dar, was reported killed along with his three followers in heavy fighting with Army soldiers in Lanao del Sur yesterday.
However, Col. Romeo Brawner, commander of the Marawi City-based 103rd Brigade, said it needs further confirmation, including DNA testing, to confirm that one of the bodies recovered was that of Abu Dar.
"Three highly credible informants who were with us in the encounter identified one of the bodies as that of Abu Dar and not Commander Zacaria, the sub-leader of the terror group, but we need further validation," Brawner said.
Government security forces have been hunting down Abu Dar and his group since they escaped from the main battle area in Marawi.
A reward of P6 million was offered for information leading to the arrest of Abu Dar, who was reported critically wounded in a series of fighting earlier this year.
Abu Dar assumed the leadership of the Maute group following the killing of Abu Sayyaf commander Isnilon Hapilon, who was designated leader of the Islamic State in Southeast Asia, and the Maute brothers in the fighting in Marawi.
4 soldiers killed
Brawner said four soldiers were also killed while the two others were wounded in yesterday's encounter.
Soldiers of the 49th Infantry Battalion encountered the terrorist group while conducting combat operations in Sitio Tagum, Barangay Dinaig, Tubaran town at around 5 p.m.
Three soldiers had been earlier reported missing, but were later located by Army search teams.
One of the soldiers died before help came. His two colleagues who were also wounded, were evacuated to a hospital for treatment.
Col. Gerry Besana, spokesman for the Western Mindanao Command (Westmincom), said the body of one of the slain militants, two caliber 5.56 rifles, a caliber .45 pistol, hand and rifle grenades, various types of ammunition and a bandoleer were recovered during clearing operations.
Four other Maute militants and four other soldiers were killed in gunfights since Monday.
One of the slain militants was identified as Abu Tahir, the alleged henchman of slain terrorist Zulkipli bin Hir, alias Marwan, who was killed in a military operation in Mamasapano, Maguindano in 2015.
As yesterday afternoon, military operations against the remnants of the Maute group are ongoing.
"Tuloy-tuloy pa ang operations, pero konti na lang mga ito dahil madami na ang nalagas sa kanila since January," Brawner said.
"We are advancing to the enemy target... hitting and inflicting heavy casualties on Maute fighters," Lt. Gen. Arnel dela Vega, Westmincom chief, said.
Dela Vega said the death of Army troopers serves as a motivation to "continue the fight against spoilers of peace and progress in Mindanao."