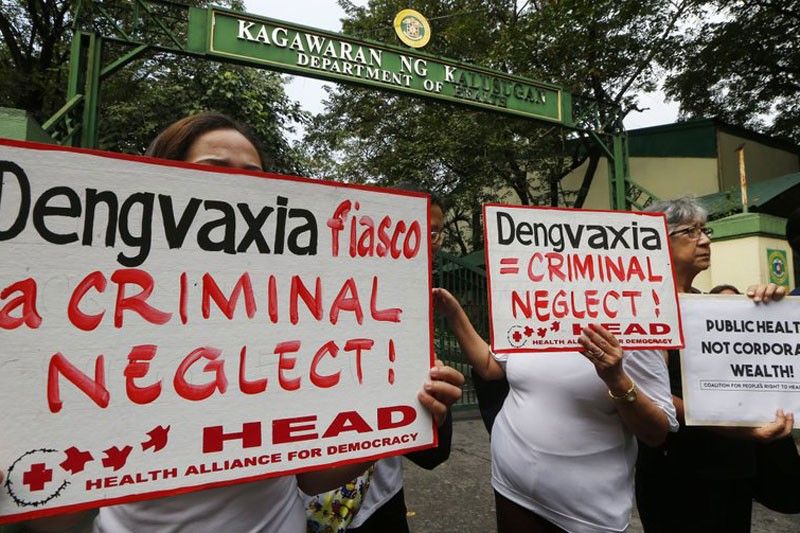 House to reopen Dengvaxia probe
MANILA, Philippines — The House of Representatives will reopen its inquiry into the Dengvaxia controversy next week.
The committee on good government and public accountability and the committee on health have scheduled hearings for Tuesday and Wednesday.
Camiguin Rep. Xavier Jesus Romualdo, who chairs the good government committee, the lead panel in the inquiry, said he wants to "tie up loose ends" in the investigation.
He said the two committees would invite "all those involved in the planning and implementation of the dengue vaccination program and in the registration and procurement of the dengue vaccine Dengvaxia (from French firm Sanofi)."
"But we will not invite them all together," he said.
He said former president Benigno Aquino lll, during whose administration the dengue vaccination program was launched, might be invited depending on the testimonies of witnesses.
In mid-August, Romualdo took over the good government committee chairmanship from Surigao del Sur Rep. Johnny Pimentel as part of the House reorganization following the ouster of former speaker Pantaleon Alvarez on July 23.
Former president and Pampanga Rep. Gloria Macapagal Arroyo was elected as the new Speaker.
Pimentel had sided with the Alvarez group. He has since rejoined the Arroyo-led majority and retained his other position as deputy majority leader.
Draft report
A day before he was replaced as good government committee chairman, Pimentel convened a meeting of his panel and the committee on health wherein he presented a draft report of their joint investigation into the Dengvaxia controversy.
However, the two panels failed to approve the report.
The draft recommends the filing of criminal and administrative charges against all those involved in the "procurement and registration" of Dengvaxia. It does not name those who would be charged.
There was no recommendation to indict Aquino or his budget secretary Florencio Abad, who did not participate in the "procurement and registration" of Dengvaxia.
Quezon Rep. Angelina Tan, who chairs the committee on health, has protested Pimentel's draft report.
She said Aquino "may still be held liable together with high-ranking officials of the Department of Health."
"It cannot be denied that it was Aquino, as the highest official of the land at that time, who caused the purchase of Dengvaxia despite the fact that it was still undergoing clinical trials," she said.
She said her committee was not involved in the drafting of the good government committee report.