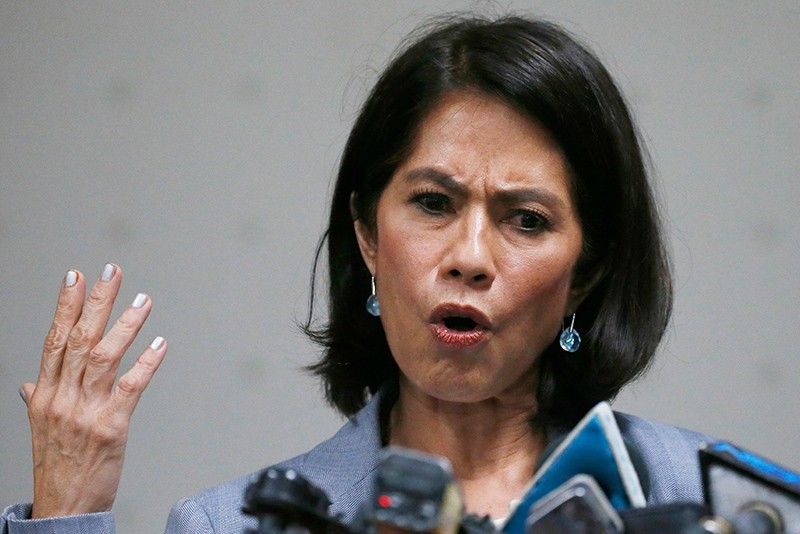 Graft complaint vs Gina Lopez junked
MANILA, Philippines — The Office of the Ombudsman has dismissed a graft complaint filed against former environment secretary Gina Lopez and the chief executive officer of the French firm EcoGlobal Inc. in connection with a $100-million power plant project in Zamboanga City.
In a 10-page resolution released recently, the ombudsman found no merit in the complaint filed in 2017 by Vienna Tañada, former business development officer of EcoGlobal.
Tañada accused Lopez and Jean Philippe Henry of violating a provision of Republic Act (RA) 3019 or the Anti-Graft and Corrupt Practices Act, which prohibits public officials from requesting or receiving gifts, presents or gratuity in exchange for securing any government permit, license or consideration.
Tañada alleged that Lopez intervened with the procedures of the Department of Energy (DOE) in awarding the $100-million solar plant contract.
Lopez allegedly lobbied for the awarding of the contract to EcoGlobal as she and her five-member team were supposedly promised a trip to Paris by Henry.
Tañada cited as evidence a letter of guarantee submitted to the French embassy in Manila, in which Henry supposedly pledged to pay for Lopez and her party's airfare, accommodations, insurance coverage and travel allowances.
Lopez's team pushed through with the trip on Oct. 2, 2016 or a day before the DOE awarded the contract to EcoGlobal.
No DOE official went with Lopez's team during the trip.
The ombudsman said it found no probable cause to indict Lopez and Henry.
Anti-graft probers cited records showing the trip was shouldered by another French company that invited Lopez to see the wastewater projects in Paris.
The ombudsman said RA 6713 or the Code of Conduct and Ethical Standards for Public Officials and Employees allows government officials to accept travel grants from foreign governments, if such is approved by a higher authority.
"The trip was approved by the Office of the President and was in line with the government's plan to rehabilitate Pasig River," the ombudsman said.