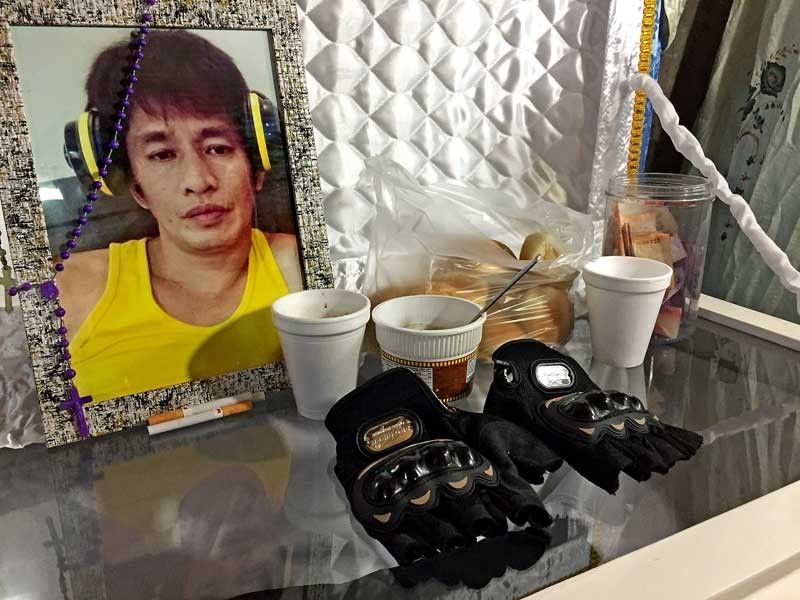 Drug suspect's son: Pa was killed like an animal
MANILA, Philippines — The son of a drug suspect police alleged to have fought back said his father was picked up by police in broad daylight but he was found dead on the railroad tracks hours later.
Chrisanto Patimo, 42, had just finished breakfast and was visiting a friend at a nearby house when he was picked up by masked men at around 7 a.m. Tuesday, Patimo's 22-year-old son Christian told The STAR at the wake.
His father's body, with gunshot wounds in the chest, was found along the railroad tracks before dawn Wednesday, Christian said.
In its report, the Caloocan police said operatives from the drug enforcement, intelligence, and special operations units were conducting surveillance operations on the elder Patimo – whom they identified as a drug suspect – when he noticed their presence and allegedly shot at them along 3rd Avenue in Barangay 25 around 1 a.m. Wednesday.
This prompted a police operative to fire shots at Patimo, according to the police report.
"He went with the police peacefully. Why does he have to be killed? What they did to him was inhumane. He was treated worse than an animal," Christian said in Filipino as he fought back tears.
Christian alleged that his father went willingly with the police and was even detained at the Caloocan police station. He said an acquaintance swore his father was detained at the police station's custodial facility.
Tortured?
Christian showed The STAR photos of his father's corpse, which bore seven gunshot wounds, four of them in the chest.
He said one bullet ripped through his father's heart, with marks on the skin indicating he had been shot at close range.
Patimo also bore bruises on his neck, back, and forehead, indicating he was tortured, Christian added.
"It's impossible that he fought back. He was shot at close range," Christian said.
He said he wants the truth about his father to come out but has no plans to press charges, citing fears for his safety.
"Hopefully the family of another victim will sue them. But that's not going to be us, because we're afraid," Christian said.