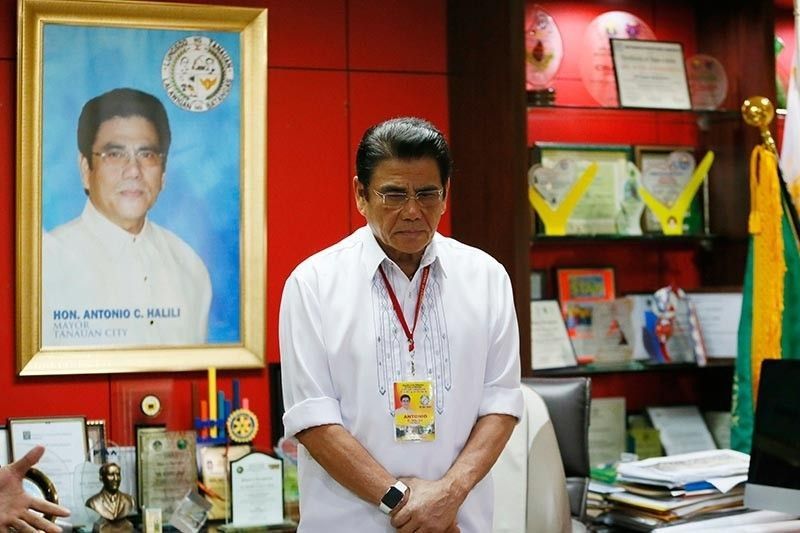 Daughter of slain Tanauan mayor files COC
MANILA, Philippines — The daughter of slain Tanauan Mayor Antonio Halili was among the early birds on the first day of filing of certificates of candidacy (COCs) yesterday.
Mary Angeline Halili filed her COC for mayor.
Batangas provincial board member Fred Corona, the father of the incumbent mayor, Jhoanna, also filed his COC for mayor.
Jhoanna will run for board member.
Mary Angeline had denied allegations that her father was killed due to his involvement in the illegal drug trade.
Halili, who was known for parading suspected drug dealers in the streets of Tanauan, was shot dead while attending a flag-raising ceremony on July 3.
He is among 18 mayors and vice mayors killed in gun attacks since President Duterte assumed office.
Halili's murder along with the killings of Mayors Alexander Buquing of Sudipen, La Union and Mariano Blanco III of Rondo, Cebu as well as Vice Mayors Jonah John Ungab of Ronda, Cebu and Aaron Sampaga of Pamplona, Cagayan remain unresolved.
Incumbents, returning pols
Most of those who filed their COCs early are incumbents and those seeking to regain their seats.
Mayor Richard Gomez of Ormoc in Leyte was accompanied by his wife Leyte Rep. Lucy Torres-Gomez in filing his COC.
Gomez said he decided to file early along with Vice Mayor Leo Carmelo Locsin Jr. and the six city councilors so they could buckle down to work, noting that October is a busy month in the city as it coincides with its anniversary.
Lucy said she would file her COC at the provincial election office in Tacloban City next week.
She said she would accompany her brother provincial board member Matt Torres, who is running for mayor of Kananga town. Lucy's sister Caren Rama is running for provincial board member.
The Gomez couple are running under the administration's PDP-Laban.
In Isabela, third district Rep. Napoleon Dy was the first candidate to file his COC for governor.
There are reports that former governor Grace Padaca will file her COC as Dy's runningmate. Padaca's camp has neither confirmed nor denied such reports.
Isabela Rep. Rodolfo Albano III is also running for governor with Dy's brother and incumbent governor Faustino III as his runningmate.
Although running under separate teams, the Dy brothers filed their COCs under the Nationalist People's Coalition.
In Surigao del Norte, former congressman Franciso Matugas filed his COC for governor.
Matugas' wife Sol, the incumbent governor, will run for congresswoman of the province's second district.
Family bets
Unlike in previous elections in La Union, the Ortega clan decided to field only one candidate for representative of the first district, governor, vice governor as well as mayor and vice mayor of San Fernando City.
"We have fixed several issues that cropped up in the previous elections... We are united now for the sake of the family and for the sake of our constituents," first district Rep. Pablo Ortega told The STAR.
Ortega, who is seeking reelection, filed his COC yesterday.
Gov. Francisco Emanuel Ortega III will seek reelection with former board member Mario Ortega as his runningmate.
Mayor Arthur Celeste of Alaminos, Pangasinan, filed his COC for governor. His brother Jesus, the mayor of Bolinao, is running for congressman of the first district, where their brother Jesus is in his third term.
Arthur will run against Gov. Amado Espino, who according to radio reports is seeking reelection.
Mayor Marop Ampatuan of Shariff Aguak, Maguindanao and his father, Vice Mayor Kagui Akmad, are also seeking reelection. Barangay officials and around 10,000 residents accompanied the two in filing their COCs.
The father-and-son team are neophyte leaders in Shariff Aguak, which is the hometown of members of the Ampatuan clan detained for their alleged involvement in the Nov. 23, 2009 Maguindanao massacre. – Lalaine Jimenea, Jun Elias, Eva Visperas, Raymund Catindig, John Unson, Ben Serrano