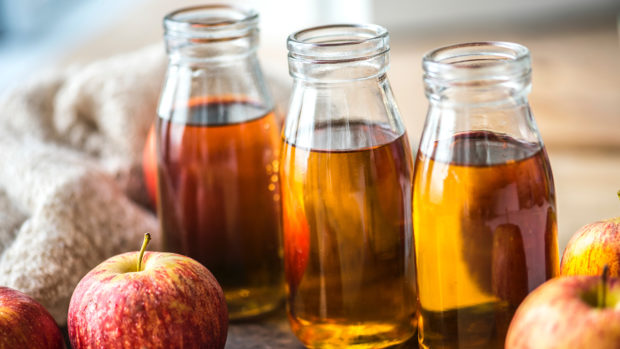 Apple Cider Vinegar Diet: Does It Really Work?
The effectiveness of ACV (Apple Cider Vinegar) has become an element of debate in the medical world. The lack of thorough research further strengthens the argument of many anti-ACV medical scientists, who claim that the substance is a mere myth and not a form medical treatment.
Despite this institutional disregard for Apple Cider Vinegar, the internet has crowned ACV king. The substance, which is believed to be a remedy for vast diseases, is promoted and sold daily. It is advertised as an antimicrobial, acne fighter, and fitness-promoting drug. But the popularity of a thing doesn't mean that all the claims are actual facts.
The sole purpose of this article is to settle, once and for all, the long battle between the media and medicine. We have organized our findings into three categories, namely:
What's Special About Apple Cider Vinegar?

What are the Disadvantages and Advantages of ACV?

Does ACV Work?
Grab an apple while we check out all the facts.
What's Special About Apple Cider Vinegar?
Apple Cider Vinegar is produced from fermented apple juice. To get ACV, Apple juice is fermented initially with bacteria, then yeast, which turns the apple content into alcohol.  Further reactions occur with acetic acid-forming bacteria to give us our final product, ACV.
Since centuries ago, ACV was applied as a folk remedy. Despite its popularity as a drug, no scientific evidence has proven it to be beneficial to human health.
It is true that facts don't lie, but in the case of ACV, the facts are lying on the fence. Neither for it or against it. There's been a lot of stories about the effectiveness of ACV, and it would be unwise to ignore the potential benefits of the substance if there are any.
What are the Disadvantages and Advantages of ACV?
Advantages
Fights microbes — It is effective when used as an antimicrobial agent. ACV is used as a disinfectant and a preservative. Traditionally, it is used to clean the wound to prevent exposure to pathogens like fungus, warts, and bacteria.
Decreases blood sugar — It is widely known among patients with diabetes that ACV reduces blood sugar by increasing insulin sensitivity by 34% during high carbohydrate meals, and around 31% after eating white bread. When studied, diabetic rats that were fed with ACV had reduced blood sugar after four weeks.
Encourages weight-loss — Drinking diluted ACV (one spoonful + water) helps reduces weight and belly fat by increasing metabolism. You have to exercise while using ACV to make the diet more effective.
Heart health — Lower your cholesterol, triglycerides, and blood sugar by using ACV. When used with a lowered carbohydrate intake, more water, and a healthy routine, ACV works like magic.
Prevents acid reflux — Gastrointestinal reflux disease, GERD, is a disease condition which moves acid to the oesophagus, thereby causing nausea, belching, and heartburn. The cause of the disease is a shortage of stomach acid, which can be treated or aided with Apple Cider Vinegar.
Aids Digestion — ACV introduces beneficial bacteria into our gut, which helps our digestive system. When having issues, dilute two spoonfuls of ACV with water, or add to fermented foods like kefir and kombucha.
Relieve night cramps — Due to low potassium levels in the blood, some people experience painful leg cramps at night. This problem can be solved by diluting ACV with high-potassium water. A combination of 2 spoonfuls, honey, and a glass of water would do the trick.
Prevents bad breath — An alternative treatment for bad breath is ACV.  Here, the diluted ACV is not meant for drinking but gargling. Gargle diluted ACV to relieve yourself from bad breadth by attacking the microbes that cause it.
Cures coughs and colds — You don't have to spend the winter sneezing and wheezing, as ACV cures the common cold. The essence of using ACV is to fortify your immunity and increase lymphatic drainage. While cold patients are told to drink diluted ACV, the ones with sore mouth are told to gargle until they're free from the microbes causing the illness.
Detox— Partied too much and you need a detox? Apple Cider Vinegar is your best option. Drinking a diluted solution of ACV helps balance your pH, aids lymphatic drainage, and improves blood flow.
Anti-Acne — Apple cider vinegar reduces scarring and pigmentation issues by halting the division of Propionibacterium acnes bacteria, the bacteria that causes acne. Using diluted ACV also improves the skin texture. By restoring the acidic area of the Skin, ACV prevents the growth of germs, kills bacteria, and removes dirt.
Disadvantages
According to Harvard medical school, "For the most part, apple cider vinegar will not harm you, but there are some notable cautions. Undiluted vinegar may damage tooth enamel, and it should not be used to whiten teeth."
Does ACV Work?
I understand that there isn't substantial evidence backing ACV health claims, but the inability of scientists to find concrete proof to support a notion does not discredit the substance's known relevance.
In fact, research has been conducted in animals and human beings, and some revealed facts points to the validity of these claims. The biggest drawback of the study was that the sample size did not include a large amount of people (only 5-11).
Since ACV is quite harmless until it is taken excessively, I would like to assume that the substance is worth a try when experiencing the aforementioned diseases. I suggest you see your doctor before using ACV. Some drugs might react negatively to the substance, and you don't want to take this risk. See your doctor for approval and do not use the substance until you have done thorough research. Always dilute ACV before using it.
Disclaimer
This writeup is not an endorsement or recommendation for ACV. The claims and conclusions in this article were not studied under scientific scrutiny, therefore all readers should take these points as mere assumptions or scientifically unverified information.
Thanks for reading!