Lifestyle
Time-stitching & other tales at Art Fair Philippines 2019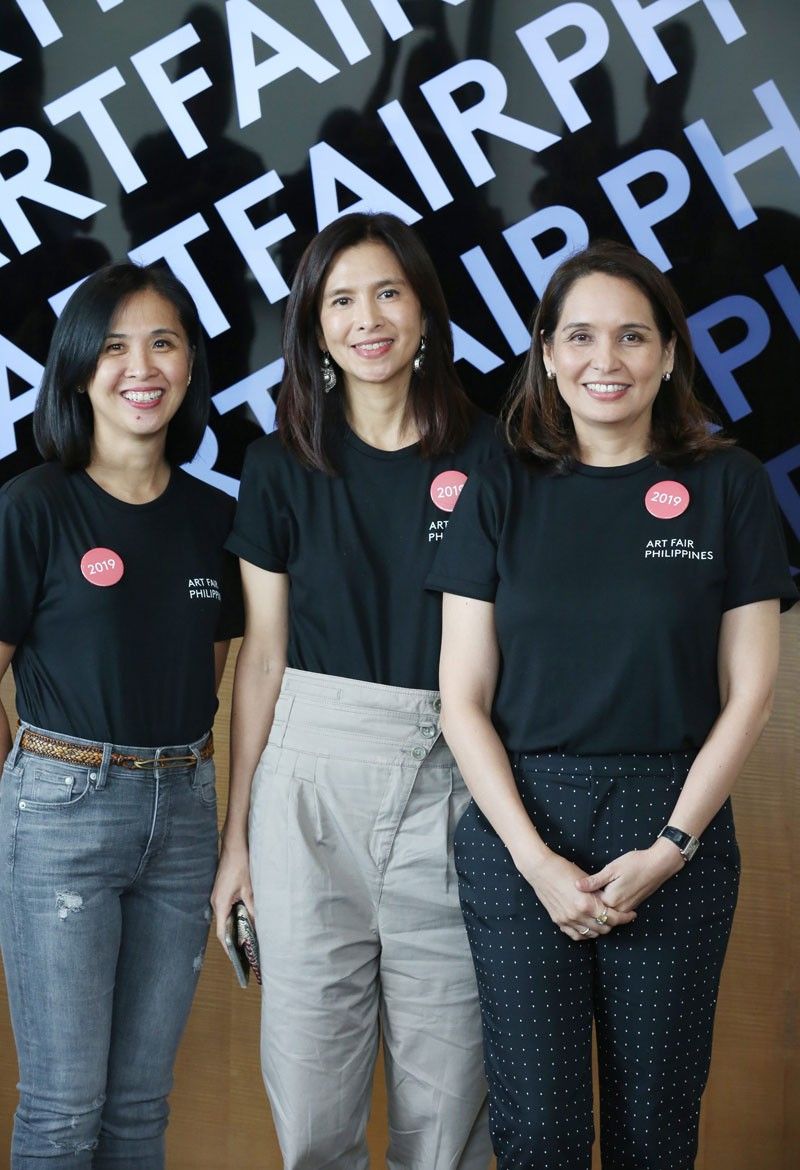 MANILA, Philippines — It came to him one day: Colombian artist Fernando Botero started drawing a "voluptuous" mandolin with a small soundhole in the middle, and an epiphany ballooned in his head. In the lore of Mauro "Malang" Santos, there were quirky figures named Kosme the Cop and Chain Gang Charlie before the cheerful cubist women started taking over. David Medalla had two lovers in London Town in the Sixties, and he gave each of them a handkerchief that would inspire one of Medalla's most resurrected, re-imagined masterpieces. Yes, behind their artworks are a cache of wondrous stories.
Thus, you can consider these pages as a sort of guide to when you, dear readers, walk the halls of The Link carpark in Makati City from Feb. 22 to 24 for the 2019 incarnation of Art Fair Philippines (AFP), founded by Dindin Araneta, Trickie Lopa and Lisa Periquet. Did you know Oca Villamiel worked as set designer for the Noel Trinidad & Subas Herrero show, Champoy? Did you know that Olivia d'Aboville became a full-fledged diver at age 13? Many nuggets here abound: Ryan Villamael used to scour the nooks of Quiapo; Ian Fabro digs Hieronymus Bosch and draws Milton-esque figures; and Liv Vinluan worked with a specific type of paper for her show at the fair called Stonehenge Vellum, deepening the mystery.
The aforementioned artists are some of the names handpicked to be part of ArtFairPH/Projects, which will showcase work commissioned especially for the fair. These are artists who have made an impact both critically and commercially.
This year, 36 of the leading galleries in the Philippines will be joined by 16 international galleries from Japan, Hong Kong, Singapore, Vietnam and Taiwan to showcase curated exhibitions from local and foreign visual artists.
The participating galleries in Art Fair Philippines 2019 are: 1335Mabini, Asian Cultural Council/León Gallery, Affinity Art, Altro Mondo Arte Contemporanea, Archivo 1984, Art Cube, Art Underground, Art Verite, Artemis Art, Artery Art Space, Artinformal, Avellana Art Gallery, Blanc, Botero in Asia, Boston Art Gallery, Canvas, Clear Gallery Tokyo, District Gallery, Edouard Malingue Gallery, Eskinita Art Gallery, Finale Art File, Gajah Gallery, Galerie Roberto, Galerie Stephanie, Galleria Duemila, Gallery Kogure, Gallery Orange, J Studio, Kaida Contemporary, Kobayashi Gallery, La Lanta Fine Arts, Mind Set Art Center, MO_Space, Nunu Fine Art, Paseo Art Gallery, Pintô Art Gallery, Salcedo Auctions, Secret Fresh, Shukado, Silverlens, Soka Art, Taksu, The Crucible, The Drawing Room, Tin-aw gallery, Underground, Vin Gallery, Vinyl on Vinyl, West Gallery, Yavuz Gallery, YOD Gallery, and Ysobel Art Gallery.
The fair, in partnership with National Book Store, is also presenting art historian Kathy Galitz from the Metropolitan Museum of Art in New York. A specialist on late 18th- and 19th-century French art, Galitz came out with a book titled Masterpiece Paintings at The Metropolitan Museum of Art, which celebrates the most important works and the most iconic paintings in The Met collection.
Fairgoers can also expect the fair to continue to focus on photography via the ArtFairPH/Photo section. Launched in 2018, ArtFairPH/Photo aims to boost support for photography as contemporary art and expand its collectability among Filipinos.
Also complementing the fair is the 10 Days of Art initiative, a series of events around the Makati Central Business District that will involve galleries, museums, bars, restaurants, and retail establishments in celebrating art beyond the venue of the fair.
And what lies beyond those artworks themselves? Inevitably more stories, really delectable ones. So, read on.
* * *
Tickets for the fair are available at www.artfairphilippines.com.
For information, visit the Art Fair Philippines website and follow Art Fair Philippines on Instagram (@artfairph) and Facebook (www.facebook.com/artfairph).
Art Fair Philippines 2019 is co-presented by Ayala Land, Bank of the Philippine Islands, Globe Platinum, and Julius Baer. The fair is also sponsored by AC Automotive, Ayala Land Premier, Make It Makati, and Don Papa. Its official hotel partners are Fairmont and Raffles Makati, and Holiday Inn and Suites.
The Philippine STAR is a media partner of Art Fair Philippines.