Lifestyle
Stubborn artists and the salience of LeWitt's lines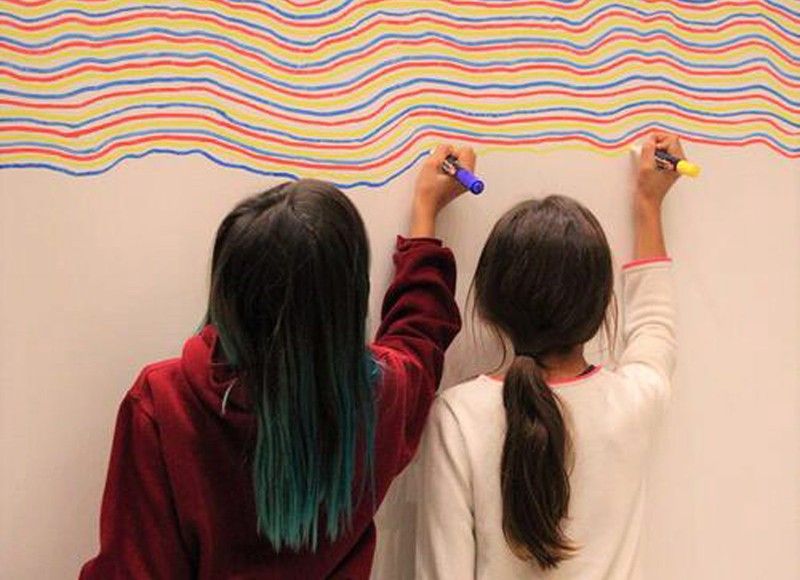 Iterations of lines, straight and scraggy, and of whites, in circles and quadrilaterals, filled MO_Space back in December 2017. US-based writer and curator Carina Evangelista was in town to open the group exhibition "Counterfeit Monochromes." Like her, the artists present that evening were busy explaining: Yes, the lines were drawn by walking miles around Metro Manila. Yes, it's a statue on sandpaper, not chalk, though it looks like it. One thing to be said about Conceptual Art: It makes for good conversation among acquaintances meeting for the first time. It wouldn't take long before someone would point out that the white, unassuming square on the floor is a piece by Sol LeWitt.
The same exhibition would spur exchanges between Evangelista and the organizers of Art Fair Philippines. In a matter of days, more lines are set to populate walls on all floors of The Link. Wavy lines and a one-liner from LeWitt are to be drafted by visual artists and writers like The STAR columnist Butch Dalisay and Marian Pastor Roces.
"The response was very positive," says Evangelista. "They were excited, especially for people like Alvin Zafra, Gary Pastrana, Poklong Anading. These are conceptual practitioners. LeWitt is a very important figure in this genre."
In the early 2000s when Evangelista started coming back to Manila, she met a number of visual artists intent on raising the banner of Conceptualism. The market now may be robust in ways that could sustain a month-long fair-frenzy, but Evangelista describes those early years as "not even healthy, but maybe stubborn. There was this stubborn practice to do conceptualism, which I found really refreshing."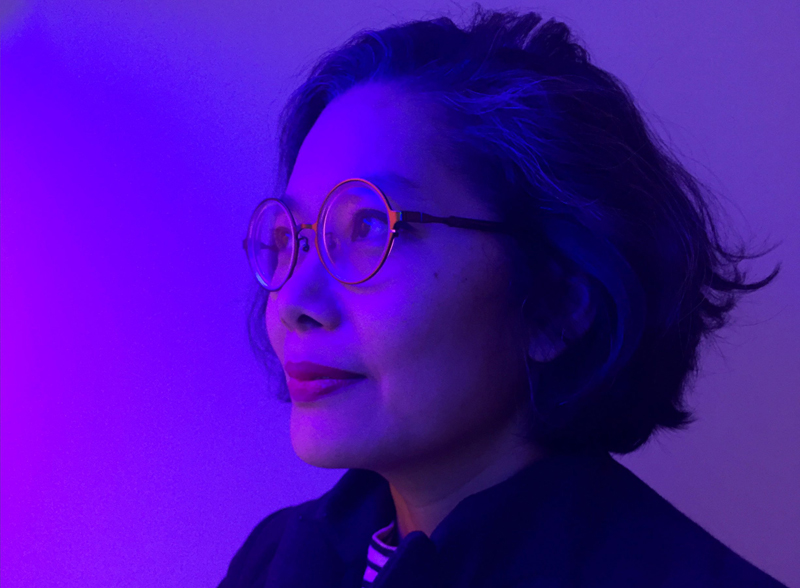 After co-curating the Weegee exhibition at Art Fair Philippines in 2018, New York-based curator and art historian Carina Evangelista comes back to organize an exhibition of Sol LeWitt's wall drawings. Photo by Kimberly dela Cruz
It was refreshing and stubborn, especially when seen in the context where not many felt the same as the writer-curator. There were those who would say the movement was borrowed from "Artforum university," something simply and cheaply derivative of Western contemporary art. During the time of conceptual artist Roberto Chabet, the conceptual was at best free expression, at worst seen as a tone-deaf, apathetic reaction to the state of a nation going to the dogs.
The drafting of LeWitt, which concludes at the Vernissage, may well be a celebration of this collective stubbornness. For what could be more obstinate than a celebration of art's dematerialization within a building which — in the key of Nilo Ilarde's work two years ago — is so "full of objects we do not wish to add more"? More than these, the performance honors origins and collaboration. Sol LeWitt was among those who led the charge for Minimalism and Conceptual Art, stating infamously, "The idea becomes a machine that makes the art." LeWitt liked lines in its many guises. There were the "Sentences on Conceptual Art," the instructions that were part of his titles, and the varied drawn lines that generated endless permutations. Above all he asserted the idea of the democratic hand: that anyone, in any part of the world, could materialize his works.
Evangelista worked directly with Sol's daughter, Sofia LeWitt, and with Anthony Sansotta, artistic director of the LeWitt Estate, and John Hogan, installations director and archivist for the LeWitt wall drawings at Yale University Art Gallery. Two works — "Wall Drawing #869A" and "Wall Drawing #1217" — will be drafted. The first relies on both play and precision: A long wavy black line will be repeated in a sequence of red, yellow, and blue all the way to the bottom. The second — LeWitt's only exclusively text-based work — will have the statement These words are written on the wall in four iterations: Filipino, English, Baybayin (translated by Boni Juan and Elnora Ebillo), and M'ranaw (translated by Juhayra Saidali, a social worker Evangelista met in Marawi).
In some interviews, LeWitt would liken his works to musical scores, in that the outcome is always a collaboration between the composer and the players. Seemingly taking this cue, Evangelista is bringing AUIT Vocal Chamber Ensemble of the UP College of Music under the leadership of Mary Katherine Trangco-Cabral who will perform the Allemande of Caroline Shaw's Partita for Eight Voices during the Vernissage. The piece is inspired, among others, by LeWitt's wall drawings and it won the young composer a Pulitzer for music. Paul Morales choreographs a dance to be performed by Michael Barry Que.
It is admittedly an entire production, a kind of bayanihan celebrating conceptualism and collaboration. "In a way (it is) an art language," says the curator, "but just as we speak English, it doesn't mean what we talk about isn't Filipino."
Conceptual art itself emerged in the wake of World War II and the atom bomb, in the thick of the Civil Rights Movement and the Vietnam War. LeWitt wasn't overtly political, but his conceptual system began with a line drawing for a 1968 exhibition in New York, "Benefit for the Student Mobilization Committee to End the War in Vietnam." "During times when there's political tumult, people tend to use various modes of expression to circumvent repression or censorship," explains Evangelista. "The irony in political cartoons and caricatures might be a knee-jerk reaction to very repressive times, but it's also evidence of creative punditry. Sa likod ng paniniil, hahanap at hahanap ng paraan to speak to it, to address it. Again, it's about language."
So is this a matter of timeliness, I ask Evangelista? "I don't know about timeliness," she says. Perhaps it isn't so much about relevance, but resonance. In whatever country or time, there comes the sheer stubbornness and salience of the democratic hand.