Lifestyle
Pinoy travel writers share saving tips for Cherry Blossom season in Japan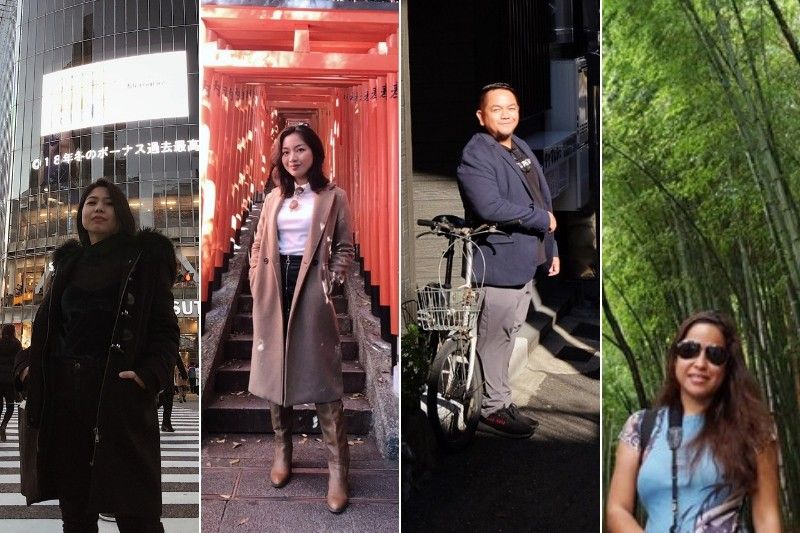 MANILA, Philippines — For most Filipinos, Japan has become the "It" Asian destination. They wish to see tourist attractions, taste authentic cuisine and shop unique items—all the while understanding the local culture. This time of the year, seeing the beauty of the cherry blossom is an absolute must.
That is why those who have visited Japan still wish to return for the second or third time around. Meanwhile, those first-timers are always on the lookout for the best deals on airfare, accommodation, and shopping. If you're one of the two, how can you maximize your Cherry Blossom experience in the Land of the Rising Sun?
One recommendation is to bring along a UnionPay Card when shopping and dining in Japan. A range of Credit, Debit and Prepaid UnionPay Cards are issued by BDO, BOC, Omnipay, PNB and RCBC.
You can also try these tried and tested ways from seasoned Filipino travel writers:
1. Save on transportation expenses
When booking your airfare, use your UnionPay and save up to $30 at trip.com. What's more, enjoy exclusive offers of up to 5 percent at Duty Free Shops such as Fa-So-La Duty Free, JAL Duty Free and KIX Duty Free shops at the airport.
Once in Japan, moving in and around the city and going to various tourist attractions are major expenses, especially because taxi rides are pricey.
Kara Santos of Travel Up says, "Flag-down rates for standard four-passenger taxis start at around JPY600 to JPY700 in Osaka and Kyoto, and increase by around JPY80 to JPY90 for every additional 300 to 400 meters traveled."
A solution, according to the seasoned travel writer, is the well-connected public transportation that operates like clockwork. "You can avail of one-day, two-day, three-day or four-day passes depending on the length of your stay," she says.
Taking JR also has its perks like enjoying the scenery. If your journey brings you to JR Kyoto Isetan located at Kyoto station, UnionPay Platinum Card and Diamond Cardholders can receive a VIP card at the duty-free counter and enjoy a 5-percent discount on the card for selected items May 31.
If taxi is absolutely needed, bring along your UnionPay Card and you need not worry about not having cash.
2. Keep your fashion game on top
For travelers who always like to stay fashionable, shopping in new places is always part of their bucket list. This is true for Martynne De Leon of WindowSeat.ph who has discovered the best shopping spots in Japan.
"Harajuku is a Tokyo fashion paradise. If you're looking for the cheapest and craziest outfit finds, head to Takeshita Street in Harajuku district where you can find lots of thrift stores and fashion boutique. It's basically the center of kawaii culture in Japan," Martynne says. Items you can score include Japanese bomber jackets, cute Lolita dresses, and affordable branded sneakers.
There are other shopping options, especially around Shibuya crossing. "A personal favorite is Kinji, a used clothing store along Meiji-dori, since they have lots of irresistible options, and of course: Uniqlo!" she says.
With UnionPay Cards, you get exclusive discounts of up to 8 percent at Tokyu Department Store, Matsuya Ginza, Hanshin Department Store and more!
3. Ace your mobile travel photography
Every traveler wants to capture the best of his or her adventure. Nicole Villaluz of When in Manila, for one, is an expert in mobile photography, which you can view in her travel diary at www.instagram.com/thestillnessinmoving.
"The smartphone is a pretty powerful tool to use in photography, as its compact and pretty straightforward. You just point and shoot," she says.
With mobile photography, Nicole considers three things: angle, environment and lighting. She explains, "First, remember that everything in the frame counts—always find the best angle. Eliminate unnecessary distractions and make sure that your photo has a focal point. Second, be aware of the environment. Background is important, even if the focus isn't there. Learn when to shoot close, mid or wide. Lastly, lighting is everything. Learn to observe where the light is coming from, and how it falls onto your subject. Natural sunlight for me is also the best."
She adds, "Luckily, the sunlight is always beautiful in Japan, with a soft golden hue. Take advantage of that."
UnionPay cardholders get 5-percent off at BIC Camera.
4. Indulge in Japanese cuisine
Contrary to belief, eating in Japan does not have to be expensive according to Melo Villareal of Out of Town Blog.
He explains, "Eating foreign food, for example, American or European dishes can be exceptionally pricey. Local food, however, is usually very reasonable, with a bowl of pork ramen costing approximately JPY600. Look for small restaurants away from tourist areas. It's also worth researching the names of typical Japanese dishes before venturing out."
To experience more Japanese food, visit konbini, or Japan's convenience stores. These offer cheap yet delicious Japanese food from onigiri to pre-cooked packed bento— starting at only JPY100.
"Konbinis are found in almost every street corner in the cities," Melo adds.
When in Kyoto, it is highly recommendable to dine at Sushi Wakon. Here, you can use your UnionPay Platinum or Diamond card for a complimentary glass of champagne or prosecco—the perfect drink while watching the sushi masters at work.
UnionPay cards are accepted at a wide range of merchants including hotels, transportations, entertainment, dining, and shopping. What's more, many come with exclusive UnionPay privileges.
In addition, where merchants do not accept card payment, UnionPay cards can also be used to withdraw cash including ATMs such as Aeon Bank, Bank of Tokyo Mitsubishi, Mitzuho Bank, Sumitomo Mitsui Banking Corporation and more also accept UnionPay cards.
For more information, visit www.unionpayintl.com or the official website of our partner banks and select a UnionPay card that can best suits your needs.