Lifestyle
Philippine spirits, wine and beer launched in Russia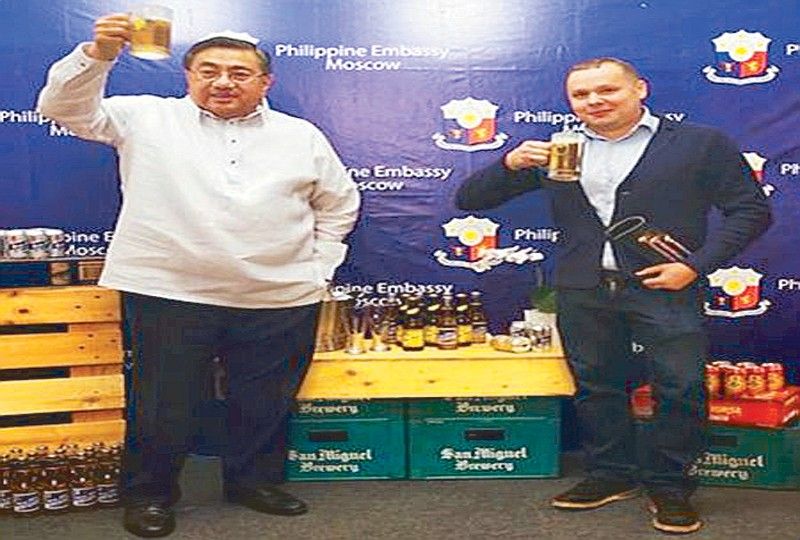 MANILA, Philippines — The Philippine embassy in Moscow showcased some of the country's best beverages during the Philippine Spirits, Wine and Beer Tasting Reception recently held at the embassy.
The tasting reception had guests from the diplomatic corps, Russian Chamber of Commerce, the Federation Council (Russian Senate) staff, tourism and travel agencies, media, beverage importers and members of the academe sample and enjoy drinks that were distinctly Philippine-made.
The reception featured products from five leading Philippine beverage companies: Destileria Limtuaco, Tanduay Distillers, La Tondena Distillers, Don Papa Rum and San Miguel Brewery Inc.
A special part of the tasting reception was the launching of San Miguel Brewery products Pale Pilsen, San Mig Light and Red Horse Beer in cans and bottles by Russian importer Pinta Club LLC.
Philippine Ambassador to Moscow Carlos Sorreta and Alexei Voronov, representative of Russian importer Pinta Club LLC, had a ribbon-cutting ceremony in front of a display of San Miguel Brewery products and introduced these to the guests.
"Our top selling beer, famous all over the world, is now in Russia," declared Ambassador Sorreta.
The reception paired the drinks with Philippine food products from Boy Bawang, banana chips from Tropics Farm, seaweed and mushroom cracklings from Vegetari, Skyflakes and Fita from Monde MY San, Century Tuna, seasoning and mixes from Mama Sita and Lorins, Lemonada of Malagmahal Foods and Palawan mango from Orich International Traders.
To enliven the event, the Philippine Embassy Cultural Performers Group (PECPG) performed several numbers, including a medley of OPM and English songs. Karen Galvadorez also presented a special OPM song number for the guests. A raffle was held with Philippine liquor, wines and beer as prizes.
Guests' feedback on the featured Philippine spirits and beer were very positive. Many of them remarked on the uniqueness and high quality of the drinks and expressed desire to see them available in Russian stores.
In his welcome remarks, Sorreta emphasized the untapped potential of the Russian market for Philippine spirits, wine and beer exports.
"Russia is an important and growing market for spirits, wine and beer. Tonight, we present the best that the Philippines can offer by way of spirits, wine and beer. We know that Russians have discerning tastes when it comes to their drinks and tonight, we bring to you our award-winning products," he stated.
The ambassador said "Russians are among the top in the world when it comes to consuming beer."
"Beer imports have grown by 57 percent and continue to grow and there are exciting opportunities in this market," Sorreta added.
Over the past two years, the ambassador had meetings and exchanged communications with San Miguel Brewery officials in the Philippines on breaking into the large Russian beer market.
"I am very grateful to San Miguel Brewery for sending us ample amounts of their samples and promotional materials which we have been using to promote their products to Russian importers and consumers," Sorreta said.
With Pinta Club LLC as the Russian importer, San Miguel Beer and Red Horse products are now available in Trampin Supermarkets and will soon be on the shelves of other leading Russian supermarket chains.
Five leading beverage companies showcased their products at the reception held at the Philippine embassy in Moscow
The tasting reception is part of the embassy's continuing efforts to promote Philippine products to Russian consumers. Throughout the year, the embassy has featured topnotch Philippine brands, cuisine and drinks in activities such as the Philippine Independence Day Festival, Fiesta Filipiniana Culture and Fashion Show, the Coffee, Tea and Chocolate Reception, Philippine Street Fair and the Cultural Gala Night, held on Oct. 4, during the second visit of President Duterte to Russia.
The embassy will be hosting this month a Philippine Food and Drink Festival in St. Petersburg.