Lifestyle
Monument 'taller than Statue of Liberty' to be unveiled in Pangasinan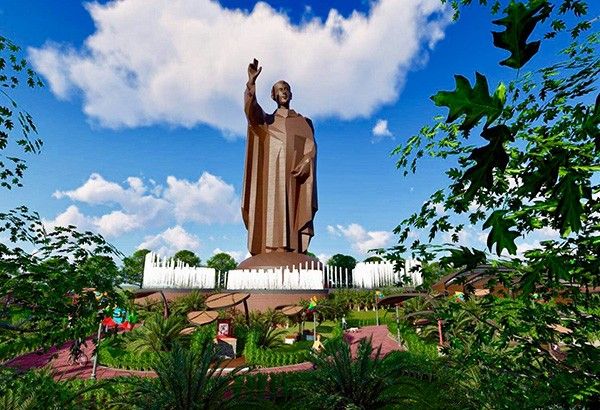 MANILA, Philippines — A 51-meter statue of St. Vincent, touted to be taller than the Statue of Liberty in New York and the Christ the Redeemer statue in Sao Paolo, Brazil, will attempt to make it in the Guinness World Records as the world's tallest St. Vincent Ferrer statue once it is unveiled next month in Bayambang, Pangasinan.
The monument will be revealed during the 405th anniversary of Bayambang, a town at the southern tip of Pangasinan and was the fifth capital of the Philippines during the first Philippine Republic under the revolutionary government of Gen. Emilio Aguinaldo.
The town fiesta coincides with the marking of the 400th year of the foundation of St. Vincent Ferrer Parish (the physical church was built in 1869), and worldwide, the commemoration of the 600th year of the saint's death. The centuries-old place of worship enshrines St. Vincent Ferrer, the patron saint of Bayambang, whose feast day is on April 5.
Bayambang takes pride as the record holder of the longest barbeque grill in the Guinness World Records. During the town fiesta this year, the town will attempt to double its fame in the annals of Guinness by unveiling what is believed to be the world's tallest statue of St. Vincent Ferrer, which is made of steel frame and engineered bamboo panels.
The soon-to-be iconic monument will stand in Saint Vincent Ferrer Prayer Park, the first part of the sprawling 67-hectare new town center of Bayambang.
The statue was the brainchild of the town mayor's wife, former "Pinoy Big Brother" housemate Niña Jose.
"St. Vincent Ferrer is a significant part in the culture and history of our town. We decided to build a statue in his honor as a thanksgiving for everything that he has done for Bayambang in the past 400 years," the former actress shared.
Bayambang's vast territory used to include Bautista town, where the Philippine National Anthem was written by Jose Palma; and Camiling town (now a part of Tarlac), the home of Jose Rizal's inspiration for Maria Clara, Leonor Rivera, and the birthplace of former United Nations General Assembly President Carlos P. Romulo.