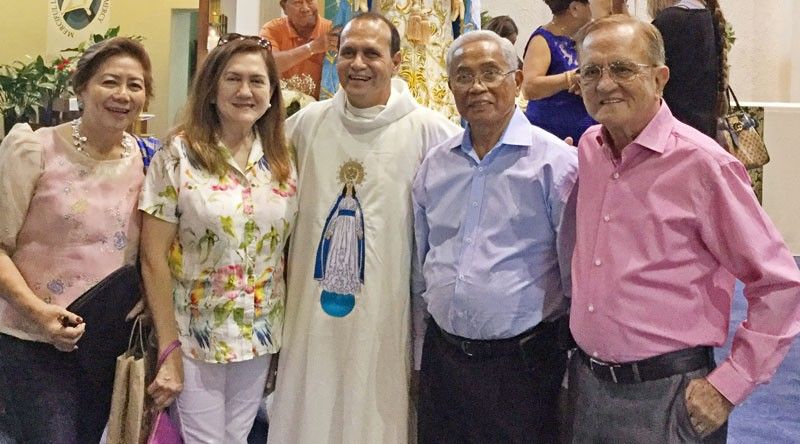 MANILA, Philippines — My brother-in-law needs a miracle!"
"We cannot promise you a miracle but what we can do is introduce you to Our Lady of Namacpacan, the Lady Who Feeds, also known as 'Apo Baket' which is an Ilocano term used for a respected and revered Elderly Lady."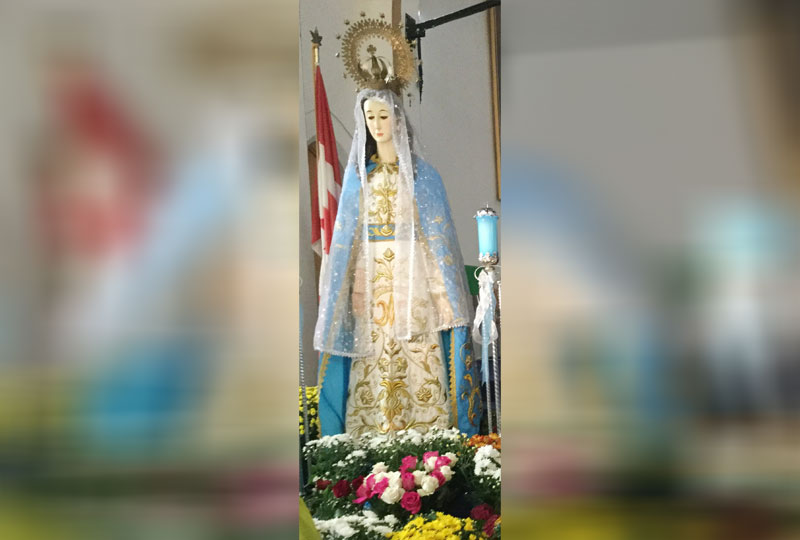 Our Lady of Namacpacan's replica was brought around Los Angeles, Virginia Beach, San Jose, Hawaii, Parsipanny, New Jersey, Toronto, Vancouver and Seattle
In 1871, a ship carrying the statue of Our Lady intended for the Seminary of the Immaculate Conception in Vigan sought cover in Namacpacan. When the weather improved, she could not be carried back to the ship and so inhabitants took it as a sign that she wanted to stay there and be known as Our Lady of Namacpacan. And to feed, she did. A stream of Igorots came down from the mountains looking for the Lady who came to feed them and invited them to come down to Namacpacan. When they saw her statue, they said she was the Lady who invited them and, thus, they became converted and were baptized.
Many miracles have been attributed to her such as the miraculous healing of "Nagasat a Rosa" or Lucky Rosa who was lame and was visited by Our Lady and was healed. Nagasat a Rosa would then visit the fishermen, tell them where to cast their nets, and they would get a good catch.
I, too, have been blessed with her miracles. The first time I saw her, I thought she was small but when I went nearer, saw she was 7'1". For her 25th anniversary since her canonical coronation, she was on the cover of Weekend Magazine.
On the 50th anniversary of her canonical coronation, Fr. Alfonso "Mons" Lacsamana invited me to assist the Papal Nuncio in crowning Our Lady.
I asked Fr. Mons, "How can I when my left foot is in a cast?"
He answered, "You were the choice of the Parish Pastoral Council and we will pray that your leg would be better by then."
The day before the coronation, my cast was removed.
After having a seminar on Heritage and History in La Union, I invited our lecturer, a Cambridge graduate on Museology, Dr. Ana Labrador, to visit Our Lady of Namacpacan. I told Ana to kneel in front of her, gaze up into her eyes and pour out her heart's yearnings to our Mother Mary. She went up the stairs and knelt on the side.
I asked: "Why did you not kneel in front of her as I suggested?"
Ana said: "I told Apo Baket 'I am not worthy to kneel in front of you so please allow me to pray from the side.'"
"Did you see her look sideways at you?"
Ana did a double-take: "You saw it, too?!"
The latest prayer that was answered was in Vancouver. Fr. Mons has been bringing a replica of her image to different parts of North America and this year, from Seattle, we brought her to Vancouver. A mother who was estranged from her daughter for 13 years joined the novena in honor of Apo Baket and on the eighth day, she dreamt of Apo Baket who asked her, "If I grant your petition, will you promise not to cry?" She went to church for the ninth day of the novena, and upon reaching home, the phone rang. It was her daughter! She wanted to cry but remembered her promise and, with joy, thanked Apo Baket.
As to the person who wanted a miracle, we prayed at the side altar where her image is enthroned and were enraptured by the bright light around the face of Our Lady. When the group proceeded to the church rectory, the petitioner went back alone and was surprised: the aura around her face was gone and her bright eyes were closed. He came out and asked us, "What is the meaning of seeing her eyes closed?" Only he can tell, but a miracle indeed happened and he was touched.
Countless miracles have been felt and numerous prayers have been answered. This year, we will celebrate the 60th year since her canonical coronation and we look forward to her sesquicentennial or 150th year since she chose to stay with us in La Union in 2021.
Namacpacan is now called Luna, after the brothers, Antonio and Juan. Come to Luna where she is enshrined. Drink the water from her well beside the church. Will your prayers be answered? Will you be touched by a miracle? Only you can tell. But the parish priest at the Shrine of Our Lady of Namacpacan, Fr. Perpetuo Concepcion told me of a lady from Alaminos who came to get water from Apo Baket's well. She went back to the United States and forgot to bring with her the bottle of water. Five years later, she was asked to go back to Alaminos because her mother was seriously ill. On her arrival, she saw the bottle of water that she left behind on the altar of their Alaminos home, made her mother drink it, and her mother was healed and lives up to this day.
Pray for us, feed us, and envelop us with your motherly love, dear Apo Baket of Namacpacan.