Lifestyle
Korina Sanchez celebrates Mar Roxas' birthday, twins' third month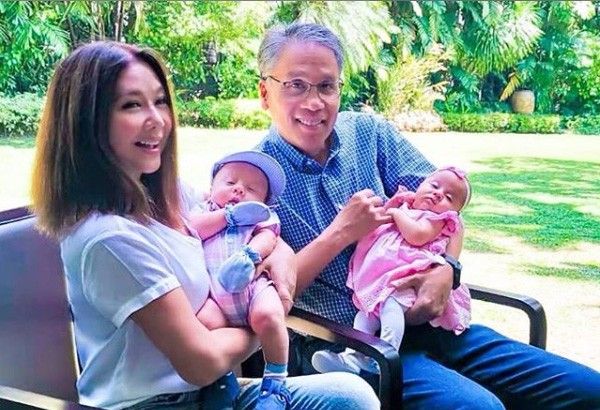 MANILA, Philippines — Kapamilya TV host Korina Sanchez has a birthday message for her husband, Senate candidate Mar Roxas, who marked his 62nd birthday on May 13, election day.
In her Facebook account, the "Rated K" host posted photos of her husband and expressed her admiration for the Liberal Party stalwart.
"HAPPY BIRTHDAY TO MY HUSBAND MAR who has always been a loving, thoughtful, protective partner and father to our children, a hard worker, fights the good fights, lover of his country and has consistently given his all to his passions... pogi pa," the 60-year-old news anchor wrote.
In another post, Korina said Mar accomplished and contributed much to the country, which is why she is proud of him.
"Honey, bilib ako sayo! And i am in awe at what you've accomplished and contributed to the poor and to this country, ang dami; am very proud of you that you carried on and did the work without making a centavo for yourself; am so excited you may get this chance to serve again. I love you. Happy Birthday!" she said.
In a post on Tuesday, Korina announced that besides Mar's birthday, they are also celebrating the third month of their twins, Pepe and Pilar.
"Yesterday our twins Pepe and Pilar turned three months old. We can only wish they grow up in a Godly country fit for Godly human beings," she said.
She also shared what her family did the day after the elections.
"This morning my husband Mar went into the nursery and announced so excited to me that Pepe is talking to him, and Pilar needs a diaper change. I was on my phone waiting on results. 'Don't bother yourself with that,' he said. We played with the twins all morning and now ordered pizza for lunch," Korina shared.
"Politics is a game. You play the game hoping for a win so you can honestly serve and correct what needs to be. Make the world a better place than when we found it. Cant do much about how other players play the game, or what other motivations there could be."
Korina and Mar tied the knot in October 2009. They recently had their babies Pepe and Pilar through in-vitro fertilization via a surrogate mother in the US.