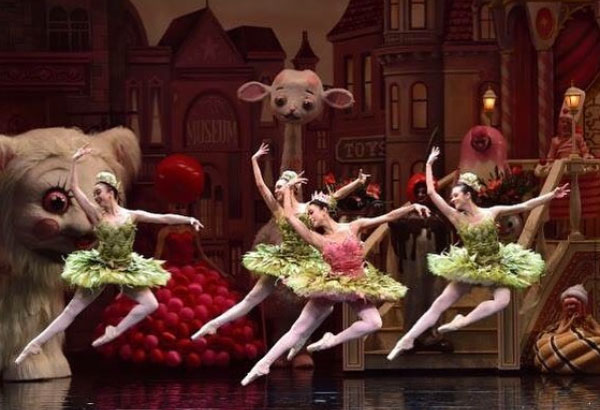 First Filipina American Ballet principal dancer to perform in Manila
MANILA, Philippines — Filipino-American Stella Abrera, the first Filipino principal dancer of the esteemed ballet company American Ballet Theatre, will be coming to Manila together with the other ballet stars for a series of shows for a cause.
"An Intimate Evening with Stella Abrera and American Ballet Stars" will be staged at the Maybank Performance Arts Theater in Bonifacio Global City on April 5 to 7 in time for the 20th anniversary of Center of Excellence in Public Elementary Education (CENTEX), Ayala Foundation's flagship education program.
Through the shows, the foundation hopes to generate at least Php2 million for the benefit of about 300 CENTEX scholars, teachers and their families, said Ayala Foundation President Ruel Maranan.
CENTEX, which celebrates its 20th anniversary this year, provides a holistic learning experience for bright students from underprivileged families, as well as their parents and public school teachers. To date, over 1,500 students have graduated from CENTEX's two campuses in Tondo, Manila, and Bauan, Batangas. It has also helped enhance the skills of more than 800 teachers and principals from 20 public elementary schools through a teacher-training program, which serves Ayala Foundation's way of replicating the CENTEX experience in different parts of the country.
"We're so grateful and excited to have Stella Abrera join us for this unbelievable opportunity," said Sofia Zobel Elizalde, committee chair for the benefit performance and founder of STEPS Dance Studio. "She's not only an amazing dancer and artist, but a true lady in every way. I am thrilled that our Filipino audiences will get a chance to see her live and be inspired by her spirit. What a treat!"
Zobel Elizalde has always had a heart for theater and dance, as she believes this an often overlooked discipline in the country. "It is so important to have arts available to all students as it gives these children a chance to experience a strong discipline, learn a beautiful art form, and build their self-esteem," she said.
For Abrera, ballet is as challenging as it is rewarding.
"A career in ballet is difficult," she shared. "It takes an incredible amount of dedication, perseverance, grit and luck—and most especially support…. Not everyone will have a successful dance career, but the lessons we learn from our training in ballet are invaluable tools that help us in other facets of life."
Born in Manila but raised in the United States, Abrera trained at the Royal Academy of Dance in Sydney, Australia. After winning gold at the Royal Academy of Dance's Adeline Genée Awards in London, she was invited to become a part of New York's American Ballet Theatre, one of the US' three leading classical ballets.
The exceptionally talented Abrera—who made her Manila debut in Ballet Philippines' 2014 production of "Giselle"—will be joined onstage by fellow American Ballet Stars Alban Lendorf, Arron Scott, Blaine Hoven, Catherine Hurlin, Gillian Murphy, Isabella Boylston, Roman Zhurbin, and Jose Sebastian.
In the upcoming shows in Manila on April, Stella and CENTEX scholars will perform excerpts from plays only previously available in New York, said Maranan.
"Dear CENTEX Scholars, it is my honor and privilege to work for your school. Your determination and grace are so inspiring and I look forward to meeting you soon!" Abrera said, adding that when she last performed in Manila, she had set up a small charity (Steps Forward for the Philippines) to help a school that been destroyed by super-typhoon Haiyan (Yolanda). This, according to her, has been among the most moving and inspiring times in her life.