Lifestyle
Family retreat in this 'magic valley' in Bali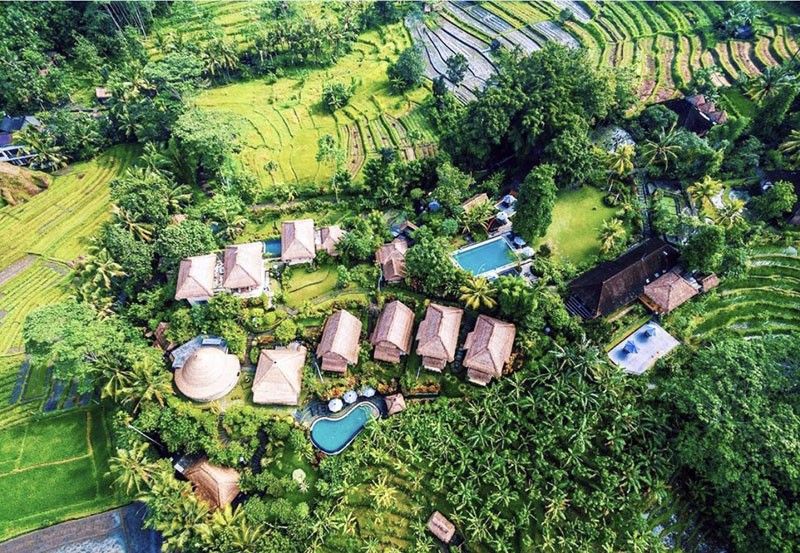 Our family was greeted by an endless carpet of green grass that stretched to the horizon, and a portion was strewn with flowers that read:"Welcome Home."
We were miles away from home, but immediately we felt this was home. No television sets in the room, just a fantastic view of rice paddies in the valley with a majestic sunset and the towering mystical Mt. Agung in the background.
The Sidemen area is a valley known for its stunning scenery and a simple, traditional and peaceful way of life. All houses are located on the right side of the road and fields are all located on the left side. This East Bali location has become a sanctuary for the weary due to its peacefulness, seclusion and even spirituality with a proliferation of many Hindu Balinese temples.
Previously the only way to stay and enjoy the village was through homestay programs but recently, small resorts have started to operate due to high demand. One such group is the women power of Sylvie, Pauline and Ibu Ati, which operates two connecting resorts — Surya Shanti Villa, which just celebrated its 10th anniversary, and Subak Tabola Villa. The two resorts are nestled on three acres of terraced rice fields with three swimming pools and two restaurants.
Couples Sylvie and Joel met Pauline and Herve in Jakarta in the 1990s and became friends. They discovered Sidemen and fell in love with the charming village. Joel and Sylvie now reside in Sidemen just like Ibu Ati, while Pauline is still Paris-based. Pauline Belo-Lepoutre is the daughter of Matilde Salgado-Belo, who at 90 actively joined the festivities amid family and friends.
Sidemen is a comfortable one-hour and 30-minute drive from the Ngurah Rai (DPS) International Airport. Add another 20 minutes and you are in Seminyak, home to the popular Potato Head and Ku De Ta. Kuta and Legian are close to the Denpasar airport area.
"Sidemen is a place for peace and introspection. However, should one choose to take his rest in this magic valley; the sophisticated traveler will find that it is, in fact, an ideal location for enjoying some of the best that Bali has to offer," said Ati.
"Subak Tabola Villa rests in a valley close to the village of Sidemen, under the watchful eye of Mt Agung. At Subak Tabola Villa you will be received as friends and enjoy an unforgettable and authentic Balinese experience," she promised.
A wellness retreat package includes a four-day/three-night accommodation, daily dinner, one-hour walking in the rice terrace, a 90-minute Balinese massage and body scrub, a one-time offering followed by meditation and praying in the temple, tropical welcome drink and fragrant cold towels on arrival, fresh fruit selection in room on arrival, daily buffet breakfast, complimentary mineral water in room/villa, internet access, free use of bicycle and shuttle service to and from Sidemen Village.
So yes, you really need not think of anything else, but there are pluses to the stay that heighten the centering experience, such as the daily yoga at 8 a.m., daily meditation and morning prayer with the staff, and activities such as preparation of Balinese offering, Balinese music "gamelan" or Balinese dance lessons with the adjacent Pasraman Vidya Giri Children Foundation. The foundation is the resort's way of giving back to the development of the village by providing free education to the young children of underprivileged local families.
Aside from the free activities above, optional activities with reasonable charges include a Balinese cooking experience, trekking in Pura Bukit with brunch, river rafting, jeep safari, enchanting Sidemen Village tour, full day shopping in Ubud (about 40 minutes away), snorkeling and lunch in Pasir Putih and a plethora of Balinese massage options and healing treatments at the resort's Sukma Center.
If you are open to it, you may opt to experience water cleansing and purification with Ibu Ati at her worship place in Pondok Sunia Giri.
"The ritual commences with prayer to ask permission to God in holding this water purification. The first step of the ritual is you will be sprinkled with the spring water through your head and all parts of your body to cleanse your mind, soul and body to refresh the spirit. This ritual will be followed with a chanting mantra to dissolve away any negative influences," Ati explained.
We honor different gods but certain truths remain the same, like respect and love for nature and each other, gratitude and respect to parents, faith in a supreme being who loves us unconditionally and who will provide for us generously. It is when we surrender control that we find peace.
* * *
Post me a note at [email protected] or [email protected].